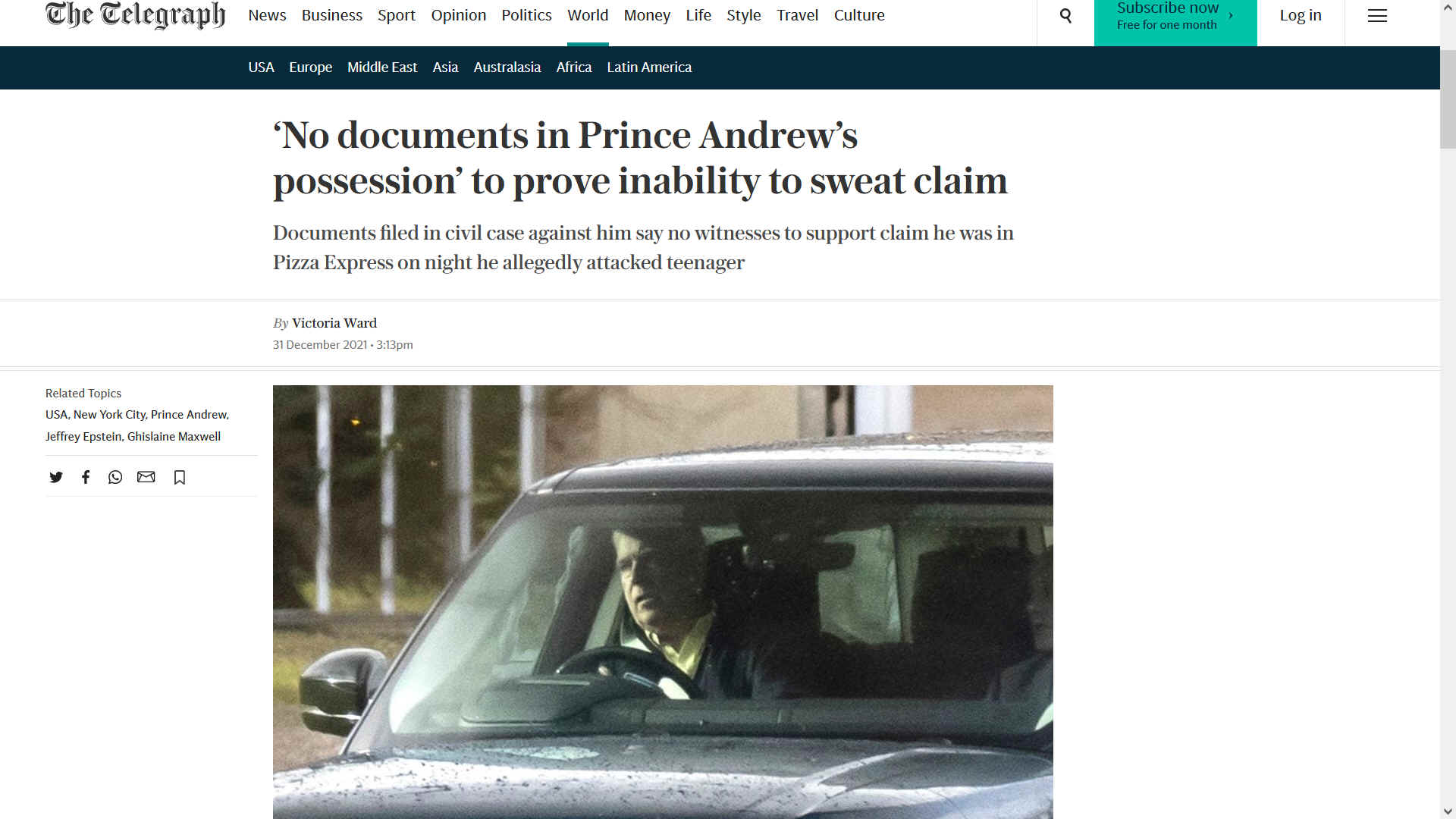 Senior royal insiders say the idea Prince Andrew could still return to public life, despite the swirling controversy around his friendship with pedophile Jeffrey Epstein, must be quashed. The comments came as Andrew suffered two setbacks in his US sex case, admitting he has no proof over his infamous claim he cannot sweat and also seeing the judge throw out an attempt to stall the case. Lawyers for his accuser Miss Roberts, who is suing the prince for damages in a New York civil case, have demanded he hand over evidence he does not perspire, as he said in a car crash Newsnight interview two years ago when denying her allegations.
THE TELEGRAPH 31 DECEMBER 2021 - NO DOCUMENTS IN PRINCE ANDREW'S POSSESSION TO PROVE INABILITY TO SWEAT CLAIM

Documents filed in civil case against him say no witnesses to support claim he was in Pizza Express on night he allegedly attacked teenager

The Duke of York has revealed there are no witnesses to corroborate his claim that he was at Pizza Express on the night he allegedly slept with a teenager trafficked by Jeffrey Epstein.

He also said he had no documents in his possession regarding the "peculiar medical condition" he said prevented him from sweating.

The claims were made in court documents filed on Thursday night in response to discovery requests made by his alleged victim, Virginia Roberts Giuffre.

The Pizza Express and sweating revelations were made during the Duke's disastrous Newsnight interview in November 2019, which he offered as proof that Ms Giuffre was lying about the night she alleged that she was abused.

Ms Giuffre has lodged a civil claim for unspecified damages, alleging that the Duke assaulted or raped her on three separate occasions in 2001 when she was 17. The Duke denies her claims and says he has no recollection of meeting her.

Both sides have now submitted detailed discovery requests, listing the evidence they require to build their respective cases.

Andrew Brettler, the Duke's lead counsel based in Los Angeles, has asked the judge to halt proceedings on the grounds that Ms Giuffre is not domiciled in the US, which would make her claim invalid.

In response, David Boies, for Ms Giuffre, lodged a lengthy objection, attaching the Duke's responses to their own discovery requests.

The objection revealed that they had made eight document requests, compared to the Duke's 214, and have asked for four interrogatories, additional questions they would like to put to other parties.

They have asked for information relating to the Duke's travel on Epstein's planes, as well as his visits to "a Pizza Express located in Woking, England" and "the Club Tramp nightclub, located in London, England".

They have also asked for evidence of his medical condition, details of trips within the US, as well as any communication he has had over the years with Epstein and Ghislaine Maxwell.

During his Newsnight interview, which Ms Giuffre's legal team has confirmed it will use as the basis for its case, the Duke said that he could not have been with her on the night in question, March 10 2001, as he was at home with his daughters and had taken Princess Beatrice to a party at Pizza Express in Woking.

He said he was able to recall such detail because going to Pizza Express was a "very unusual" thing for him to do, adding that he remembered it "weirdly distinctly".

Ms Giuffre's lawyers have asked him to identify anyone he had "met or encountered" during the visit as well as any documents concerning his travel to or from the restaurant or his presence there.

The Duke said that he had met no one there. On the request for documents, his lawyer's response added: "Defendant is unable to comply with Request No. 4(f) because no such documents exist in his possession, custody or control. A diligent search and a reasonable inquiry have been made in an effort to comply with this demand."

Ms Giuffre has alleged that on the night she was abused, she was taken to Tramp nightclub in Mayfair by the Duke, Epstein and Maxwell, who was this week convicted of sex trafficking.

She said of the Duke during a 2019 Panorama interview: "It was horrible and this guy was sweating all over me – like, his sweat was raining basically everywhere."

The Duke told Newsnight there was a "slight problem" with her recollection as he did not sweat during that period due to a "peculiar medical condition" arising from an overdose of adrenaline received during the Falklands War when he was shot.

Mr Boies has asked the Duke to identify anyone he met or encountered at Tramp nightclub that night, as well as any documents concerning his travel to or from or his presence at the club.

His lawyers said there were none because he was not there.

Mr Boies also asked for the names of anyone with information about his "alleged medical condition of anhidrosis, hypohidrosis" or his "inability to sweat". In response, the Duke's team said he could identify only himself.

In terms of documentary evidence, they said he was unable to comply "because no such documents exist in his possession, custody or control".

They added: "A diligent search and a reasonable inquiry have been made in an effort to comply with this demand."

Mr Boies said in his court filing that "based on his discovery responses, Prince Andrew has apparently already determined that he has no documents that would be responsive to the majority of Plaintiff's requests".

He added: "If Prince Andrew truly has no documents concerning his communications with Maxwell or Epstein, his travel to Florida, New York, or various locations in London, his alleged medical inability to sweat, or anything that would support the alibis he gave during his BBC interview, then continuing with discovery will not be burdensome to him at all."

Lewis Kaplan, the judge, will hear arguments on the Duke's motion to dismiss the case, as well as his request to halt proceedings based on Ms Giuffre's domicile, on January 4.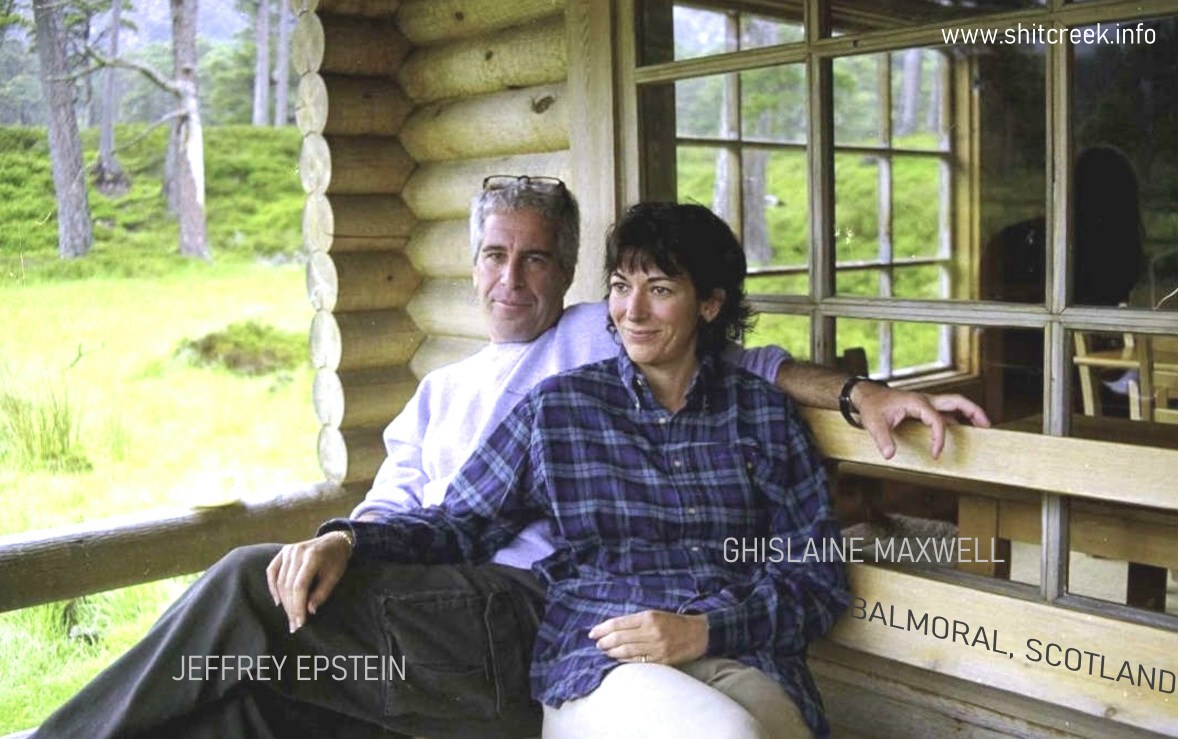 BALMORAL OR IMMORAL - You would be persuaded by this picture, that Epstein and Ms Maxwell, were good friends of the Duke. On the other hand, Prince Andrew was always entertaining big business, in promoting Great Britain Ltd. Much the same as Queen Elizabeth brokered foreign deals on HMY Britannia.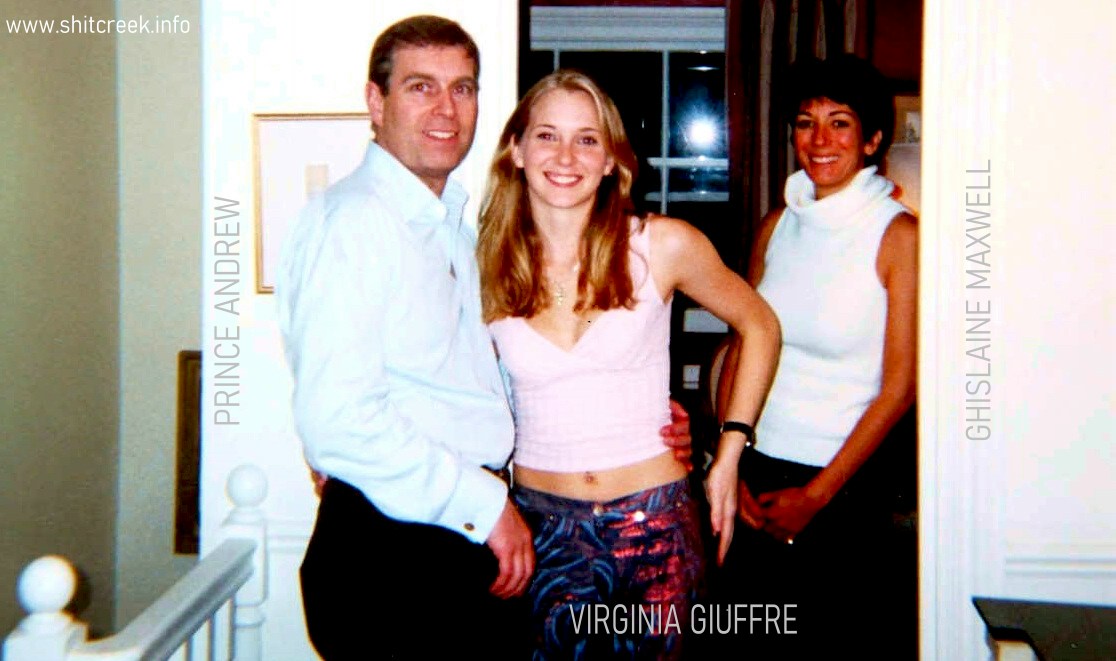 The Prince may not remember the 17 year old Virginia Roberts, but unless this photograph is a fake (doubtful - it must have been checked out) he did meet the young lady at some point - even if only posing at a drinks party, and Ghislaine Maxwell was at this meeting. One question we would ask is how do we know the age of the claimant from this picture? She could easily be 18 or older. Or she may have claimed to be over 18, for Ghislaine to have allowed Virginia to have been photographed with the Duke. No doubt, testimony from Ms Maxwell will clear that up. And where and when was the picture taken, and by whom? You can imagine that with US State laws varying, and this picture looking for all the world like London, where the age of consent is 16, the precise details relating to the taking of this picture are extremely important. It might be worth checking passports, etc. Not that we are saying anything did or did not happen between the Prince and Ms Roberts. For the sake of argument, if some did take place (that the Duke cannot recall) and it was in London, then no crime had been committed. You can marry a girl in Spain and Tahiti at 13 (we think). Hence, any prosecution would need to be very sure of dates and places to begin mounting an investigation. It would not be fair to even interview the Prince, until the facts had been established, for fear of trying to trick him into something he could not possibly remember. We know of a case where penetration had been alleged during a police interview, but the evidence told only of natural marks and a hymen that could not be opened [even] with labial traction. A so-called child specialist gave evidence at trial, that the natural marks could only be explained by penetration. Legal Aid restrictions prevented the defendant in that case from instructing a specialist. Sussex police allowed the jury to hear misleading evidence, and the man was convicted on naturally occurring marks, found in females of all ages. British justice is such that despite other discrepancies being identified, such as a diary being attributed by the trial judge to the defendant, when it belonged to a psychiatric nurse, an appeal has never made it back to the Courts. Europe sent back a claim after 4 years, suggesting the wrongly convicted man had a domestic remedy. On that basis, good luck to anyone facing trial in the UK. At least you have unlimited funds for your legal team in the USA.
DAILY MAIL 31 DECEMBER 2021 - STEPHEN GLOVER: LEGAL TRICKS WON'T WASH ANYMORE - PRINCE ANDREW IS JEOPARDISING THE MONARCHY

Can Prince Andrew save himself? Or are his reputation and good name about to be dragged further into the gutter, damaging not only him but the monarchy as well?

No one can yet answer these questions definitively because no one other than Prince Andrew and a handful of people know whether he is wholly innocent of allegations made by Virginia Giuffre (formerly Roberts) that he sexually abused her in London and New York and on a Caribbean island in 2001 when she was 17.

If he is blameless, as he vehemently insists that he is, it is obviously in his interests and those of the Royal Family for him to strain every sinew to convince the world of his innocence. This he has so far not done.

Until this week the prince had just about got away with a combination of stone-walling, evasion and obfuscation, though at enormous cost to his credibility. The conviction of his friend Ghislaine Maxwell as a child sex trafficker demands an entirely new approach on his part. Things have suddenly got an awful lot worse for him.

The spotlight is shining much more powerfully on Andrew partly because we now know that the woman whom he invited to Balmoral, Windsor Castle and Sandringham is both depraved and wicked.

So that famous photograph of a smiling Prince Andrew with his arm wrapped around the bare midriff of Virginia Giuffre, as Ghislaine Maxwell beams in the background inside her house, inevitably takes on a deeper significance.

What exactly happened that night? What on earth was the 41-year-old prince doing with his arm around a 17-year-old girl who was part of a sex trafficking ring of underage girls nurtured by Maxwell for her friend, the paedophile Jeffrey Epstein?

The spotlight also homes in on Andrew because the allegations of Maxwell's and Epstein's victims have now been believed and upheld by a jury, though Virginia Giuffre herself was not called as a witness during the trial.

Can the prince seriously believe that his previous policy of bobbing and weaving – he told BBC's Newsnight in a disastrous interview in 2019 that he couldn't even remember meeting Giuffre – is remotely sustainable following Maxwell's conviction?

Just look at the way he and his lawyers have conducted themselves over recent months. Andrew was accused of trying to 'dodge, duck, run and hide' in his mother's palaces to avoid legal papers being served on him after Virginia Giuffre filed a lawsuit against him. He should have accepted them like a man.

His aggressive US attorney, Andrew Brettler, attempted to argue simultaneously that Giuffre's claims were 'baseless and potentially unlawful' whilst also saying that the court papers had not been properly served. Judge Lewis Kaplan reasonably responded: 'Let's cut out all the technicalities and get to the substance.'

In October, the prince's lawyers changed tack by branding Giuffre as a 'money-hungry sex kitten' who had 'initiated this baseless lawsuit against Prince Andrew to achieve another payday'.

Their latest swerve was to suggest earlier this week that Virginia Giuffre was pretending to be a US citizen but lives in Australia, and therefore the American court lacks jurisdiction to hear the case. The judge will consider the arguments on Tuesday.

Whether in relation to Giuffre's lawsuit, or to other charges that may lie along the road in the wake of Maxwell's conviction, Prince Andrew is going to have to stand and defend himself. If he declines to do so, the world will increasingly conclude that he is guilty – with possibly calamitous consequences for the monarchy.

The prince has hitherto conducted himself as though the accusations against him are entirely his business. He apparently believes that if he wishes to give an interview and shoot himself in the foot, or duck court papers, or unleash attack-dog lawyers who use abusive language, it is only a matter for him.

It's not, of course. Andrew's reputation is on the line, and he has so far managed to guard it in a spectacularly clod-hopping way. But there is something infinitely more important at stake – the position of Her Majesty the Queen as she approaches the 70th anniversary of the start of her reign.

If the entitled and haughty prince continues to give the impression that he believes there is one set of laws governing the behaviour of people like him, and another for the rest of us, the monarchy is certain to suffer lasting damage.

That is why he must not go on running the show in such an incompetent and haphazard fashion. He should give a proper account of himself, and attempt to explain his close relationship with the child trafficker Ghislaine Maxwell, and with the paedophile Jeffrey Epstein who killed himself in a jail cell. [allegedly]

An innocent man should have nothing to fear from the law. The prince has every right to insist on a fair hearing, but once that right has been granted, evading very serious charges becomes shaming, contemptible and destructive.

He is a foolish man who kept bad company, and is accused of doing bad things. Few people give a fig for him, but millions of us cherish the monarchy. Prince Andrew must not be allowed to bring it to ruin.

Prince Andrew & the Epstein Scandal: The Newsnight Interview - BBC News - 4,840,669 views - 17 Nov 2019

In a Newsnight special, Emily Maitlis interviews the Duke of York as he speaks for the first time about his relationship with convicted paedophile Jeffrey Epstein and allegations which have been made against him over his own conduct.

The Duke of York speaks to Emily Maitlis about his friendship with Jeffrey Epstein and the allegations against him. In a world exclusive interview, Newsnight's Emily Maitlis speaks to Prince Andrew, the Duke of York at Buckingham Palace.

For the first time, the Duke addresses in his own words the details of his relationship with convicted sex offender Jeffrey Epstein, who took his own life while awaiting trial on sex-trafficking charges.

In 2015, Prince Andrew was named in court papers as part of a US civil case against Epstein. The Prince, who is the Queen's third child, also answers questions about the allegations made against him by one of Epstein's victims, and discusses the impact of the scandal on the Royal family and his work.

10 DECEMBER 2021 - CHARITY WATCHDOG INVESTIGATION PRINCE CHARLES'S SCOTTISH VILLAGE - A charity watchdog has launched an investigation into financial transactions used to bail out the Prince of Wales's struggling eco-village in Scotland. The Office of the Scottish Charity Regulator (OSCR) is already examining fundraising practices at the Prince's Foundation, following allegations that the Prince of Wales' closest former aide co-ordinated with "fixers" over honours nominations for a Saudi billionaire donor.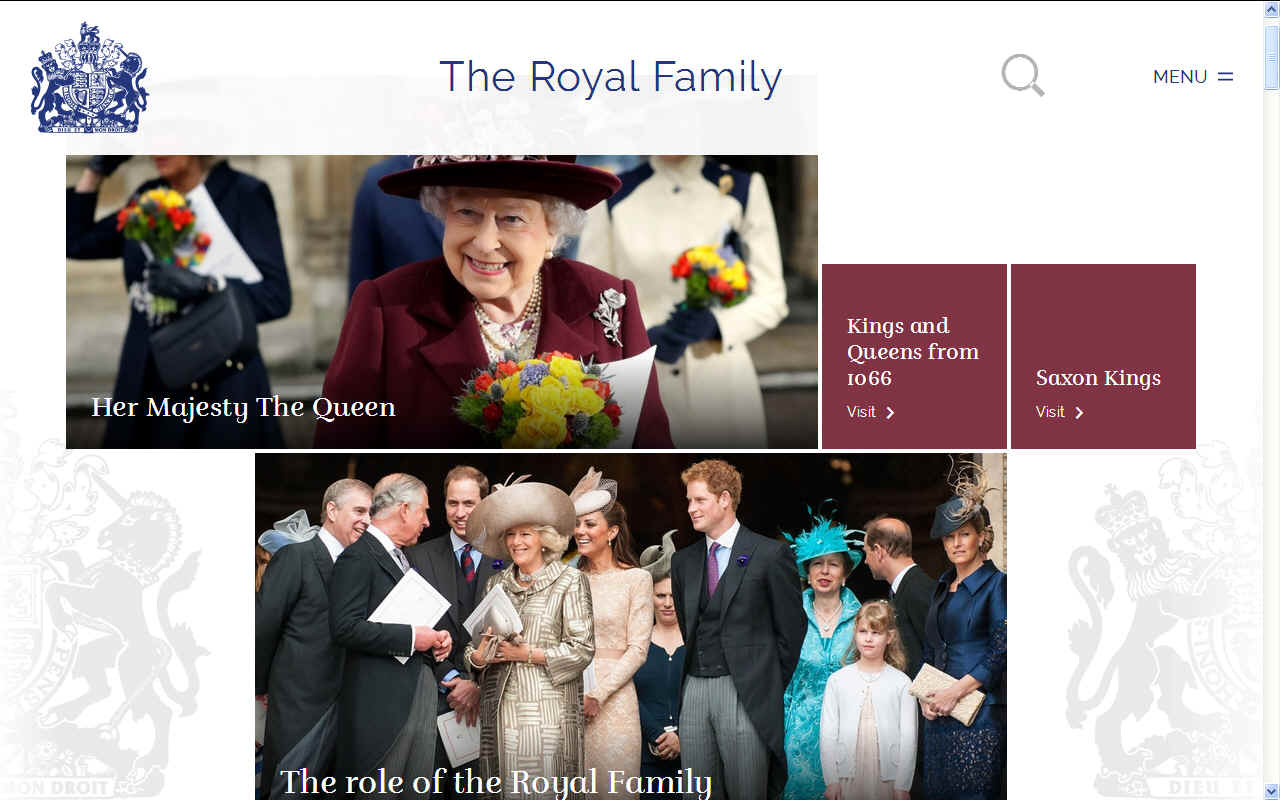 NOW IS THE TIME FOR CHANGE - Under the present system where the Head of State is a royal, and there is no written constitution, politicians like David Cameron and Boris Johnson can lie with impunity - even to Queen Elizabeth - and not face penalties. Police officers can shoot unarmed civilians and not be sent to prison, and planning officers can deceive the Secretaries of State and High Court judges, and not be prosecuted. In effect, it is alleged that there is little justice in England, Northern Ireland, Scotland and Wales. We aver that such machinations are costing the ordinary taxpayer, Treasury and the Crown (being the state) significant sums of money, while adding to the UK's carbon footprint. Hence, the country is not being run effectively by the at present; defective administration, not to serve its citizens, but to sustain and profit itself. Unlike the US Constitution of 1791 that exists to serve the people.
LINKS & REFERENCE
https://www.msn.com/en-gb/news/courts/epstein-accuser-takes-legal-action-against-duke-of-york-over-alleged-assault/ar-AAN7T69
https://www.msn.com/en-gb/news/courts/andrew-s-legal-team-stonewalling-lawyers-of-his-accuser/ar-AAN9XYk
https://www.msn.com/en-gb/news/courts/prince-andrew-s-legal-team-accused-of-being-totally-uncooperative-over-sexual-assault-allegations/ar-AANalqM
https://www.msn.com/en-gb/news/uknews/sorry-prince-andrew-but-you-can-t-stay-in-balmoral-forever/ar-AANbRpM
https://www.msn.com/en-gb/news/uknews/met-police-to-review-jeffrey-epstein-allegations-amid-prince-andrew-lawsuit/ar-AANeqs9
https://www.msn.com/en-gb/news/uknews/prince-andrew-s-1-5m-loan-paid-off-by-firms-linked-to-tory-donor-report/ar-AAQMCd7?
https://www.msn.com/en-gb/news/world/virginia-giuffre-s-lawyer-suggests-calling-meghan-markle-to-testify-in-prince-andrew-case/ar-AAS3f5u
https://www.msn.com/en-gb/entertainment/celebrity/prince-andrew-told-he-will-face-justice-after-ghislaine-maxwell-verdict/ar-AASi1eJ
https://www.bbc.co.uk/news/world-us-canada-59780323
https://www.telegraph.co.uk/world-news/2021/12/31/prince-andrews-accuser-asks-duke-submit-evidence-inability-sweat/
https://www.dailymail.co.uk/debate/article-10359545/STEPHEN-GLOVER-Legal-tricks-wont-wash-Prince-Andrew-jeopardising-monarchy.html
https://www.telegraph.co.uk/world-news/2021/12/31/prince-andrews-accuser-asks-duke-submit-evidence-inability-sweat/
https://www.dailymail.co.uk/debate/article-10359545/STEPHEN-GLOVER-Legal-tricks-wont-wash-Prince-Andrew-jeopardising-monarchy.html
https://www.msn.com/en-gb/entertainment/celebrity/prince-andrew-told-he-will-face-justice-after-ghislaine-maxwell-verdict/ar-AASi1eJ
https://www.bbc.co.uk/news/world-us-canada-59780323
https://www.msn.com/en-gb/news/world/virginia-giuffre-s-lawyer-suggests-calling-meghan-markle-to-testify-in-prince-andrew-case/ar-AAS3f5u
https://www.msn.com/en-gb/news/courts/epstein-accuser-takes-legal-action-against-duke-of-york-over-alleged-assault/ar-AAN7T69
https://www.msn.com/en-gb/news/courts/andrew-s-legal-team-stonewalling-lawyers-of-his-accuser/ar-AAN9XYk
https://www.msn.com/en-gb/news/courts/prince-andrew-s-legal-team-accused-of-being-totally-uncooperative-over-sexual-assault-allegations/ar-AANalqM
https://www.msn.com/en-gb/news/uknews/sorry-prince-andrew-but-you-can-t-stay-in-balmoral-forever/ar-AANbRpM
https://www.msn.com/en-gb/news/uknews/met-police-to-review-jeffrey-epstein-allegations-amid-prince-andrew-lawsuit/ar-AANeqs9
https://www.msn.com/en-gb/news/uknews/prince-andrew-s-1-5m-loan-paid-off-by-firms-linked-to-tory-donor-report/ar-AAQMCd7
Please use our A-Z INDEX to navigate this site