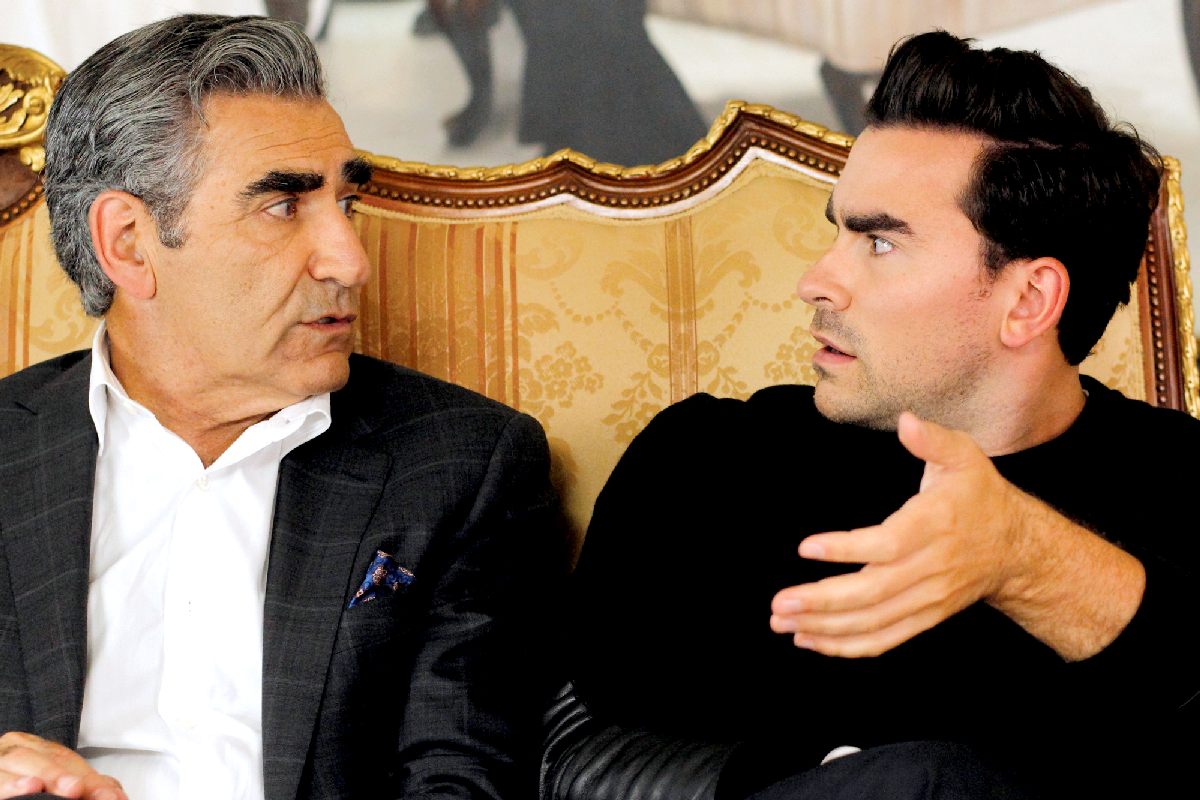 FATHER & SON - The best new comedy of the new year is on a network you've never heard of: Pop TV.
It's the rebranded TV Guide Network, and they were onto something when they booked "Schitt's Creek" into their winter schedule.

The broad satire on the rich and famous, and rural America, was created by the father/son team of Eugene and Daniel Levy. Eugene needs no introduction, since the inspired comic actor has been making people laugh since his days on "SCTV" and in sendups like "Best in Show," "A Mighty Wind" and the "American Pie" movie franchise.
In this series, his partner-in-crime is none other than fellow "SCTV" alum Catherine O'Hara. They play Johnny and Moira Rose, a rich couple whose baroque home is repossessed by the IRS thanks to a shady deal brokered by Rose's crooked business manager.

There's nowhere for the Roses and their two spoiled children — David (Levy) and Alexis (Annie Murphy) — to go, except to Schitt's Creek, a town Johnny admits "he bought as a joke" for his son. The fun really starts when the family gets there.

Imagine getting lost on the backroads of America in the middle of the night and there's only one motel to stay in. It's filthy. The sheets haven't been changed in months. And the staff are like zombies. It's where the Roses are forced to live. "Let's all pray we don't wake up," Moira says when she goes to bed that first awful night.

The Levys nicely develop their fish-out-of-water concept by showing how the family tries to fit in out of necessity.

David gets a job bagging groceries at the only supermarket in town. Alexis, dumped by her playboy boyfriend, comes on to a local dude at a tailgating party, convinced that she's doing him a favor by kissing him (only to find that he looks even better in the daylight).

Best of all is the scene where washed-up soap-star Moira is asked to give acting lessons to a group of schoolchildren — scaring them half to death.

Levy is the straight man here. In one of his best scenes, he goes to the motel front desk, wearing a suit, and orders eggs Florentine and a yogurt parfait to be delivered to his room. Says the "concierge" (a perfectly deadpan Emily Hampshire): "Due to a lack of everything we don't do room service."

O'Hara, as you might expect, plays her scenes with divine, demented glee. When Johnny decides to sell the town — and needs the signature of mayor Roland Schitt (a very skeevy and funny Chris Elliott) to put things in motion — he takes Moira to dinner at the mayor's house.

Turns out Roland is a big fan of Moira's most famous role, the imperious Vivian Blake on "Sunrise Bay," and asks her to slap him the way Vivian did on TV. Demurring for about half a minute, Moira gives him three fast cracks across the face and bellows, "Sign the f—ing contract!"

The first season of "Schitt's Creek" comprises 13 episodes, so we're guessing that it won't be so easy for Johnny and Moira and their two brats to get away. That's just fine with us, since the culture clash and comic splendor on display might make "Schitt's Creek" the funniest outpost of progress since "Green Acres."
Schitt's Creek (stylized as Schitt$ Creek) is a Canadian television sitcom created by Dan and Eugene Levy that aired on CBC Television from January 13, 2015 to April 7, 2020. It consists of 80 episodes spread over six seasons. Produced by Not a Real Company Productions, the series follows the trials and tribulations of the formerly wealthy Rose family when they are forced to relocate to Schitt's Creek, a small town they once purchased as a joke. Now living in a motel, Johnny Rose (Eugene Levy) and Moira Rose (Catherine O'Hara) - along with their adult children, David (Dan Levy) and Alexis (Annie Murphy) - must adjust to life without money and with each other.

The wealthy Rose family - video store magnate Johnny (Eugene Levy), his wife and former soap opera actress Moira (Catherine O'Hara), and their adult children David and Alexis (Dan Levy and Annie Murphy) - lose their fortune after being defrauded by their business manager. They are forced to rebuild their lives with their sole remaining asset: a small town named Schitt's Creek, which Johnny had bought for David as a joke birthday gift in 1991.
The Roses relocate to Schitt's Creek, moving into two adjacent rooms in a run-down motel, the Schitt's Creek Motel. (Later renamed the Rosebud motel as a mashup of Stevie's last name and the Rose's surname.) As the family adjusts to their new lives, their well-to-do attitudes come into conflict with the more provincial residents of Schitt's Creek, including mayor Roland Schitt (Chris Elliott), his wife Jocelyn (Jenn Robertson), and the motel's manager Stevie Budd (Emily Hampshire).

Daniel Levy came up with the idea for the show while watching reality television. He told Out.com, "I had been watching some reality TV at the time and was concentrating on what would happen if one of these wealthy families would lose everything. Would the Kardashians still be the Kardashians without their money?" He turned to his father, Eugene Levy, to help develop the show; Eugene Levy came up with series title. Daniel Levy decided to make the location of Schitt's Creek vague, but in August 2018 said that it is in Canada.
The Levys initially pitched the show to several networks in Canada and the United States. Cable networks HBO and Showtime passed on the series, while broadcast networks ABC (United States) and the CBC (Canada) expressed interest. The show was first sold to the CBC, but the Levys decided against ABC as its U.S. broadcaster due to the network's alleged history of creative interference. Schitt's Creek eventually found a U.S. home on Pop TV after striking a deal with network head Brad Schwartz, who had previously hired Daniel on MTV Canada.

During the early stages of development, various networks suggested the title of the show be changed to make it sound less vulgar. The Levys resisted these suggestions and argued "Schitt" was a legitimate last name. To prove their point, they brought pages copied from a phone book to the CBC showing listings for individuals with the "Schitt" surname. The CBC agreed and allowed the Levys to keep the original title. The name has still faced censorship issues during promotional tours in the United States, with many networks shortening the title or providing extra disclaimers before using it on-air.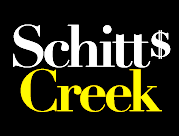 CASTING
Main
Eugene Levy as Johnny Rose
Catherine O'Hara as Moira Rose
Daniel Levy as David Rose
Annie Murphy as Alexis Rose
Emily Hampshire as Stevie Budd, the motel clerk, and later, motel owner
Jenn Robertson as Jocelyn Schitt, the mayor's wife
Chris Elliott as Roland Schitt, the mayor
Tim Rozon as Mutt Schitt (seasons 1–3; guest season 4), Roland and Jocelyn's son and Alexis's former love interest
Dustin Milligan as Ted Mullens, the town's veterinarian, and Alexis's boyfriend
Sarah Levy as Twyla Sands, the café's waitress.
John Hemphill as Robert "Bob" Currie, proprietor of Bob's Garage and a member of the town council
Karen Robinson as Veronica "Ronnie" Lee, a member of the town council
Noah Reid as Patrick Brewer (seasons 4–6; recurring season 3), David's business partner and husband

Recurring
Rizwan Manji as Ray Butani, the only real estate agent in town and a former member of the town council
Marilyn Bellfontaine as Gwen Currie, Bob's wife.
Robin Duke as Wendy Kurtz (season 2 & 5), dress shop owner and David's former employer
Jasmin Geljo as Ivan (seasons 2 & 3), a baker who supplies the motel with pastries
Ennis Esmer as Emir Kaplan (season 5), a travel blogger and Stevie's former love interest
Steve Lund as Jake (seasons 2–4, 6), Stevie and David's ex who dates them at the same time.
...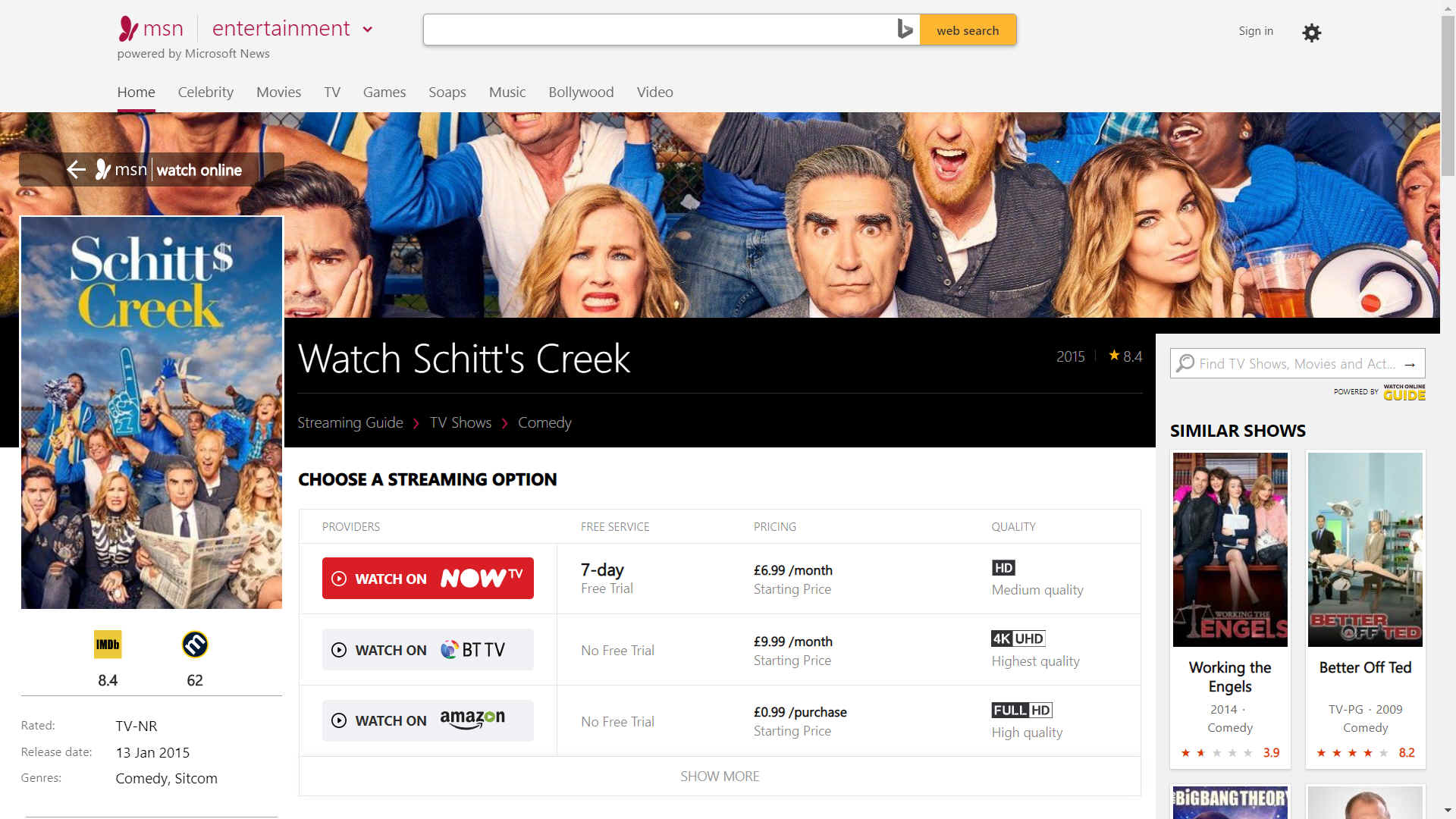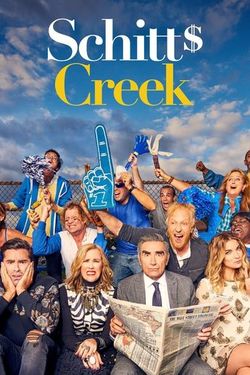 LINKS & REFERENCE
..
| | | | | |
| --- | --- | --- | --- | --- |
| | | | | |
| Eugene Levy | | Daniel Levy | | |
| | | | | |
| | Chris Elliott | Tim Rozon | Dustin Milligan | |
| | | | | |
| John Hemphill | | Noah Reid | Rizwan Manji | |
| | | | | |
| | Jasmin Geljo | Ennis Esmer | Steve Lund | |