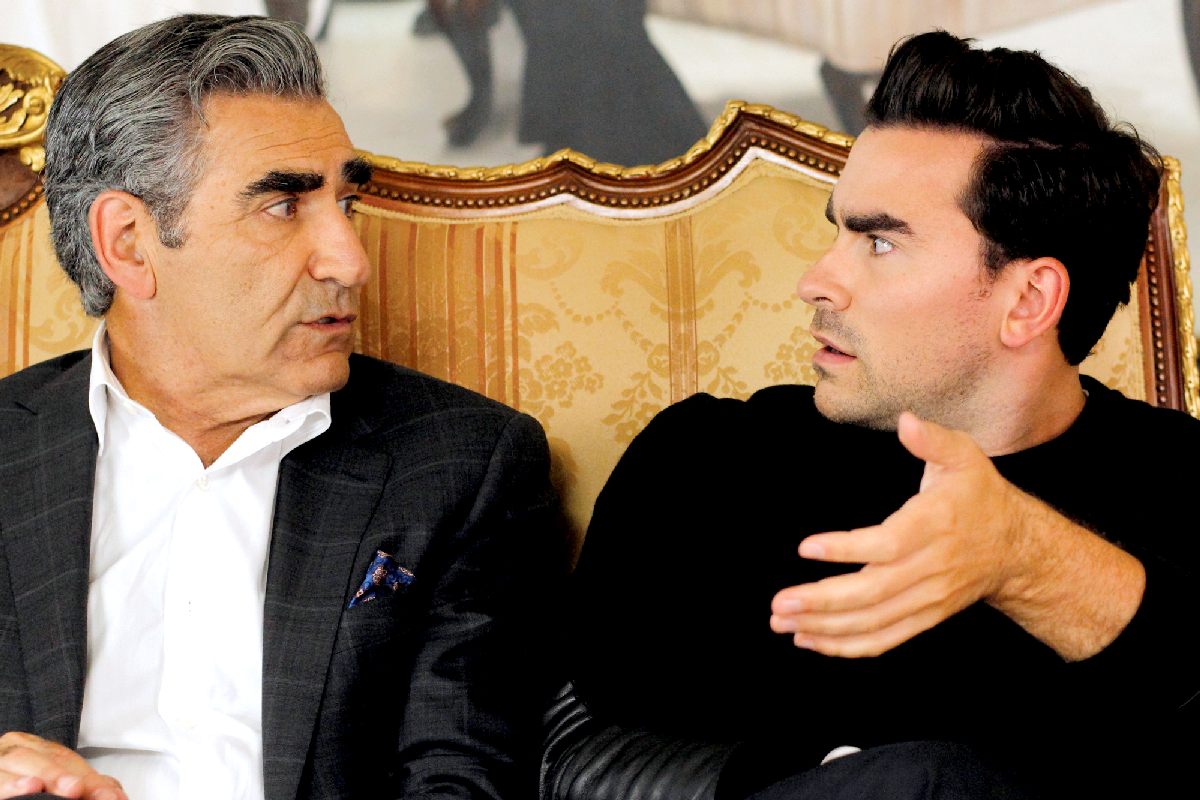 FATHER & SON - The best new comedy of the new year is on a network you've never heard of: Pop TV. In this Canadian series, Eugene's partner-in-crime is fellow "SCTV" alum Catherine O'Hara. They play Johnny and Moira Rose, a rich couple whose baroque home is repossessed by the IRS thanks to a shady deal brokered by their crooked business manager. There's nowhere for the Roses and their two spoiled children — David (Levy) and Alexis (Annie Murphy) — to go, except to Schitt's Creek, a town Johnny admits "he bought as a joke" for his son, but the fun starts when the family gets there.
SCHITT'S CREEK

Daniel Joseph Levy is a Canadian actor, writer, producer, and television personality. He is the son of comedian and actor Eugene Levy and screenwriter Deborah Divine Levy. Dan Levy hosted an aftershow for The Hills that aired on MTV Canada for several seasons.

He starred as David Rose in Schitt's Creek, a scripted comedy series that he co-created with his father. For his work on the series, he has won several Canadian Screen Awards, among other accolades.
In 2013, Daniel formed Not a Real Company Productions (with his father Eugene Levy and principals Andrew Barnsley and Fred Levy). Their first project was a television pilot with CBC, which resulted in Schitt's Creek. Levy also stars in the series alongside his father, sister Sarah Levy, Catherine O'Hara, Annie Murphy, and Chris Elliott. It is the Not a Real Company Productions' first television series. Levy has spoken publicly about his character's portrayal of pan-sexuality, saying, "I think in certain parts of America, David's sexual ambiguity was a big question mark. (But) it was issues like that that I find quite exciting.

For his work on Schitt's Creek, Levy has been nominated for numerous awards, including several Canadian Screen Awards for writing and acting, winning the awards for Best Comedy Series, Best Writing in a Comedy Program or Series in 2016 and Best Comedy Series in 2019. In March 2019, Levy announced that the series was renewed for a sixth and final season, and said the decision to end the series after season six on their own creative terms was a "rare privilege".

In July 2017, it was announced that Levy would host The Great Canadian Baking Show with Julia Taylor Ross, which had its premiere November 1 on CBC. Controversy arose when John Doyle of The Globe and Mail criticized the show's first episode in a review on October 30, 2017. Included in the review was a critique of Levy's "feyness" while performing as host and a joke hinting at nepotism at CBC. While acknowledging the importance of criticism in media, Levy called the use of the word "feyness" "offensive, irresponsible, and homophobic".
The Globe's public editor, Sylvia Stead, published a statement on November 9 explaining that "Mr. Doyle was not aware that Mr. Levy was gay and he used the term to mean preciousness". She also acknowledged that, despite the dictionary not defining "fey" as a slur, "we need to understand not just the context of words, but how they evolve and are viewed by communities that may be justly sensitive to a range of meanings." Levy and Chan returned as hosts for the series' second season, which premiered in September 2018. In March 2019, Levy announced via Twitter that he and Chan would not be returning as hosts for the series' third season, citing "scheduling conflicts."

In May 2019, he was the keynote speaker at The Infatuation's annual food festival, EATSCON.

In June 2019, to mark the 50th anniversary of the Stonewall Riots, sparking the start of the modern LGBTQ rights movement, Queerty named him one of the Pride50 "trailblazing individuals who actively ensure society remains moving towards equality, acceptance and dignity for all queer people".

In September 2019, it was announced that Levy had signed a three-year deal with ABC Studios to produce and develop scripted content.

In January 2020, he and his father Eugene Levy were guest hosts of The Ellen DeGeneres Show, filling in for Ellen while she took a day off. They did many of the ordinary host activities including interviewing fellow Schitt's Creek cast members Catherine O'Hara and Annie Murphy.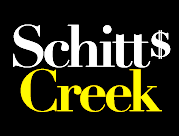 | | | | | |
| --- | --- | --- | --- | --- |
| | | | | |
| Eugene Levy | Catherine O'Hara | Daniel Levy | Annie Murphy | Emily Hampshire |
| | | | | |
| Jenn Robertson | Chris Elliott | Tim Rozon | Dustin Milligan | Sarah Levy |
| | | | | |
| John Hemphill | Karen Robinson | Noah Reid | Rizwan Manji | Marilyn Bellfontaine |
| | | | | |
| Robin Duke | Jasmin Geljo | Ennis Esmer | Steve Lund | |
CASTING

Eugene Levy as Johnny Rose
Catherine O'Hara as Moira Rose
Daniel Levy as David Rose
Annie Murphy as Alexis Rose
Emily Hampshire as Stevie Budd, the motel clerk, and later, motel owner
Jenn Robertson as Jocelyn Schitt, the mayor's wife
Chris Elliott as Roland Schitt, the mayor
Tim Rozon as Mutt Schitt (seasons 1–3; guest season 4), Roland and Jocelyn's son and Alexis's former love interest
Dustin Milligan as Ted Mullens, the town's veterinarian, and Alexis's boyfriend
Sarah Levy as Twyla Sands, the café's waitress.
John Hemphill as Robert "Bob" Currie, proprietor of Bob's Garage and a member of the town council
Karen Robinson as Veronica "Ronnie" Lee, a member of the town council
Noah Reid as Patrick Brewer (seasons 4–6; recurring season 3), David's business partner and husband

Rizwan Manji as Ray Butani, the only real estate agent in town and a former member of the town council
Marilyn Bellfontaine as Gwen Currie, Bob's wife.
Robin Duke as Wendy Kurtz (season 2 & 5), dress shop owner and David's former employer
Jasmin Geljo as Ivan (seasons 2 & 3), a baker who supplies the motel with pastries
Ennis Esmer as Emir Kaplan (season 5), a travel blogger and Stevie's former love interest
Steve Lund as Jake (seasons 2–4, 6), Stevie and David's ex who dates them at the same time.
.

Schitt$ Creek is a Canadian television sitcom created by Dan and Eugene Levy that aired on CBC Television from January 13, 2015 to April 7, 2020. It consists of 80 episodes spread over six seasons. Produced by Not a Real Company Productions, the series follows the trials and tribulations of the formerly wealthy Rose family when they are forced to relocate to Schitt's Creek, a small town they once purchased as a joke birthday gift. Johnny Rose (Eugene Levy) and Moira Rose (Catherine O'Hara) - along with their adult children, David (Dan Levy) and Alexis (Annie Murphy) - must adjust to life without money and with each other.

The wealthy Rose family lost their fortune after being defrauded by their business manager. They are forced to rebuild their lives with their sole remaining asset: Schitt's Creek.