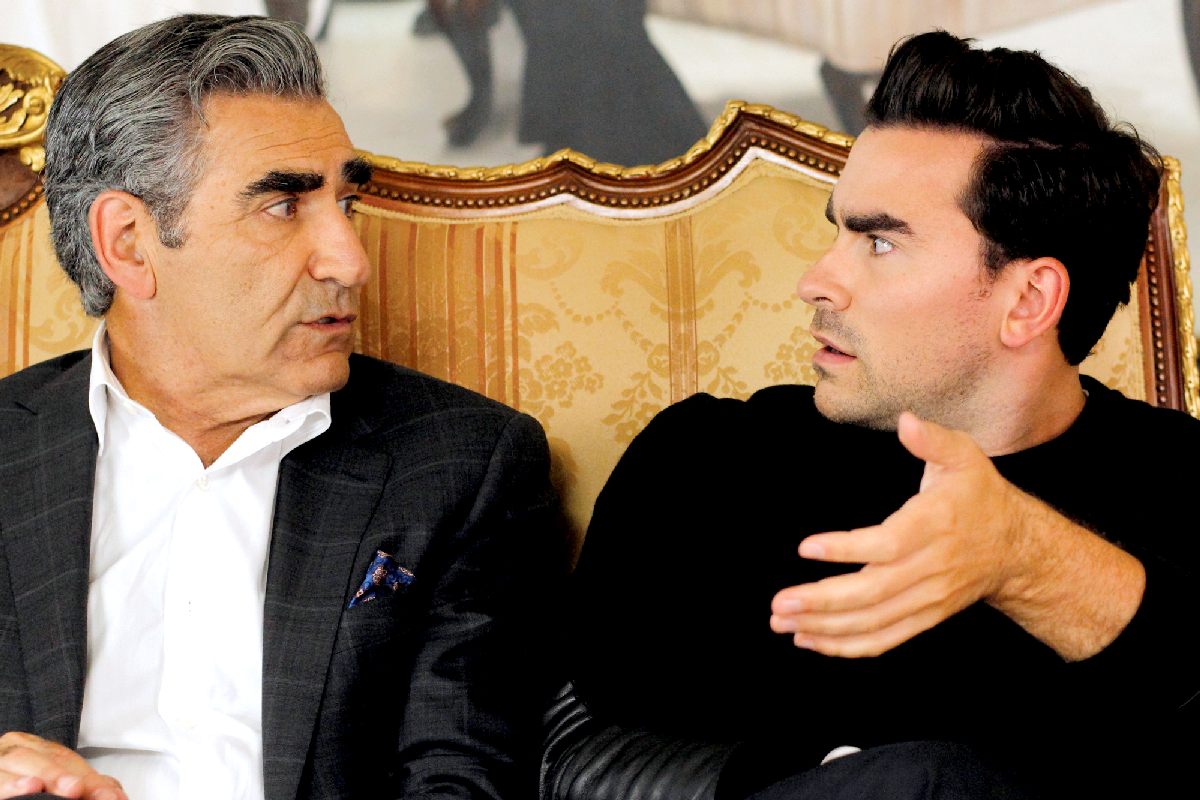 FATHER & SON - The best new comedy of the new year is on a network you've never heard of: Pop TV. In this Canadian series, Eugene's partner-in-crime is fellow "SCTV" alum Catherine O'Hara. They play Johnny and Moira Rose, a rich couple whose baroque home is repossessed by the IRS thanks to a shady deal brokered by their crooked business manager. There's nowhere for the Roses and their two spoiled children — David (Levy) and Alexis (Annie Murphy) — to go, except to Schitt's Creek, a town Johnny admits "he bought as a joke" for his son, but the fun starts when the family gets there.
Rizwan Manji is a Canadian actor. He played Rajiv in the NBC Universal TV series Outsourced. He plays Ray Butani in Schitt's Creek.

During the early years of Manji's career, he played small parts in various films and television shows, with recurring roles in Privileged, Better Off Ted and 24. In 2010 Manji auditioned for the role of Gupta on the NBC comedy Outsourced. Parvesh Cheena got the part, but the producers cast Manji as the scheming assistant manager Rajiv.
Manji appeared in a GEICO commercial as a customer in the checkout aisle who wins the "auction," and in commercials for Kmart, LendingTree, National Car Rental, and The UPS Store.
Schitt$ Creek is a Canadian television sitcom created by Dan and Eugene Levy that aired on CBC Television from January 13, 2015 to April 7, 2020. It consists of 80 episodes spread over six seasons. Produced by Not a Real Company Productions, the series follows the trials and tribulations of the formerly wealthy Rose family when they are forced to relocate to Schitt's Creek, a small town they once purchased as a joke birthday gift. Johnny Rose (Eugene Levy) and Moira Rose (Catherine O'Hara) - along with their adult children, David (Dan Levy) and Alexis (Annie Murphy) - must adjust to life without money and with each other.

The wealthy Rose family lost their fortune after being defrauded by their business manager. They are forced to rebuild their lives with their sole remaining asset: Schitt's Creek.
...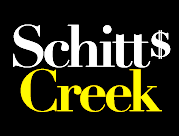 | | | | | |
| --- | --- | --- | --- | --- |
| | | | | |
| Eugene Levy | Catherine O'Hara | Daniel Levy | Annie Murphy | Emily Hampshire |
| | | | | |
| Jenn Robertson | Chris Elliott | Tim Rozon | Dustin Milligan | Sarah Levy |
| | | | | |
| John Hemphill | Karen Robinson | Noah Reid | Rizwan Manji | Marilyn Bellfontaine |
| | | | | |
| Robin Duke | Jasmin Geljo | Ennis Esmer | Steve Lund | |
CASTING
Eugene Levy as Johnny Rose
Catherine O'Hara as Moira Rose
Daniel Levy as David Rose
Annie Murphy as Alexis Rose
Emily Hampshire as Stevie Budd, the motel clerk, and later, motel owner
Jenn Robertson as Jocelyn Schitt, the mayor's wife
Chris Elliott as Roland Schitt, the mayor
Tim Rozon as Mutt Schitt (seasons 1–3; guest season 4), Roland & Jocelyn's son & Alexis's former love interest
Dustin Milligan as Ted Mullens, the town's veterinarian, and Alexis's boyfriend
Sarah Levy as Twyla Sands, the café's waitress.
John Hemphill as Robert "Bob" Currie, proprietor of Bob's Garage and a member of the town council
Karen Robinson as Veronica "Ronnie" Lee, a member of the town council
Noah Reid as Patrick Brewer (seasons 4–6; recurring season 3), David's business partner and husband

Rizwan Manji as Ray Butani, the only real estate agent in town and a former member of the town council
Marilyn Bellfontaine as Gwen Currie, Bob's wife.
Robin Duke as Wendy Kurtz (season 2 & 5), dress shop owner and David's former employer
Jasmin Geljo as Ivan (seasons 2 & 3), a baker who supplies the motel with pastries
Ennis Esmer as Emir Kaplan (season 5), a travel blogger and Stevie's former love interest
Steve Lund as Jake (seasons 2–4, 6), Stevie and David's ex who dates them at the same time.
.

....