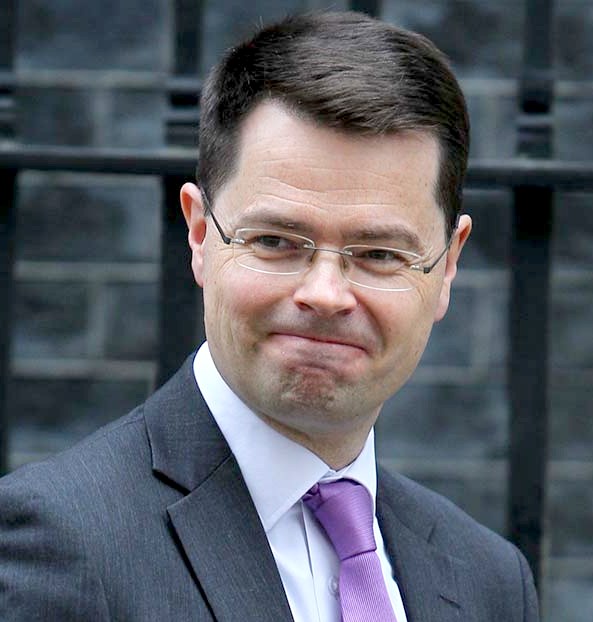 JAMES BROKENSHIRE - Conservatives content to rape the countryside and still make no provision for low cost housing, causing a continuation of the renting society created by Margaret Thatcher.
A GOVERNMENT UP SHIT CREEK WITHOUT A PADDLE
James Brokenshire MP was responsible for drafting the National Planning Policy Framework leading up to publication in 2012 as the then Secretary of State. Fantastic!
This document said all the right things about a rolling stock of land for affordable housing, but then councils were allowed to do what they pleased. For example, Wealden has no rolling stock of land for affordable housing, neither 5 or 10 year plans.
And, they have been allowed to get away with it. Despite the ability to issue Compulsory Purchase Orders.
Saying something and doing another is the same as saying what was not said - i.e. we are not going to change a thing. In fact, we are going to make things worse.
The Wealden Action Group have been saying for years that we need a special police force to prosecute corrupt planning officials. In 1997 a Petition went to Sussex police, who proved how corrupt the system is by failing to investigate the report of 12 crimes.
Lord Nolan QC, said that no planning officer should occupy any local government position for more than 5 years. This was said of the police in respect of secret societies.
But the Nolan Report was ignored. Again, it said all the right things, but provided no action.
THE ACID (SHIT) TEST
A number of concerned citizens wrote to Mr Brokenshire and Jeremy Wright MP (Culture Media & Sport) in 2018, but their prayers were not answered. Both MP's took the fifth amendment, deciding not to get involved, presumably to preserve their political careers. For to get involved would have meant to admit that their policies were not working.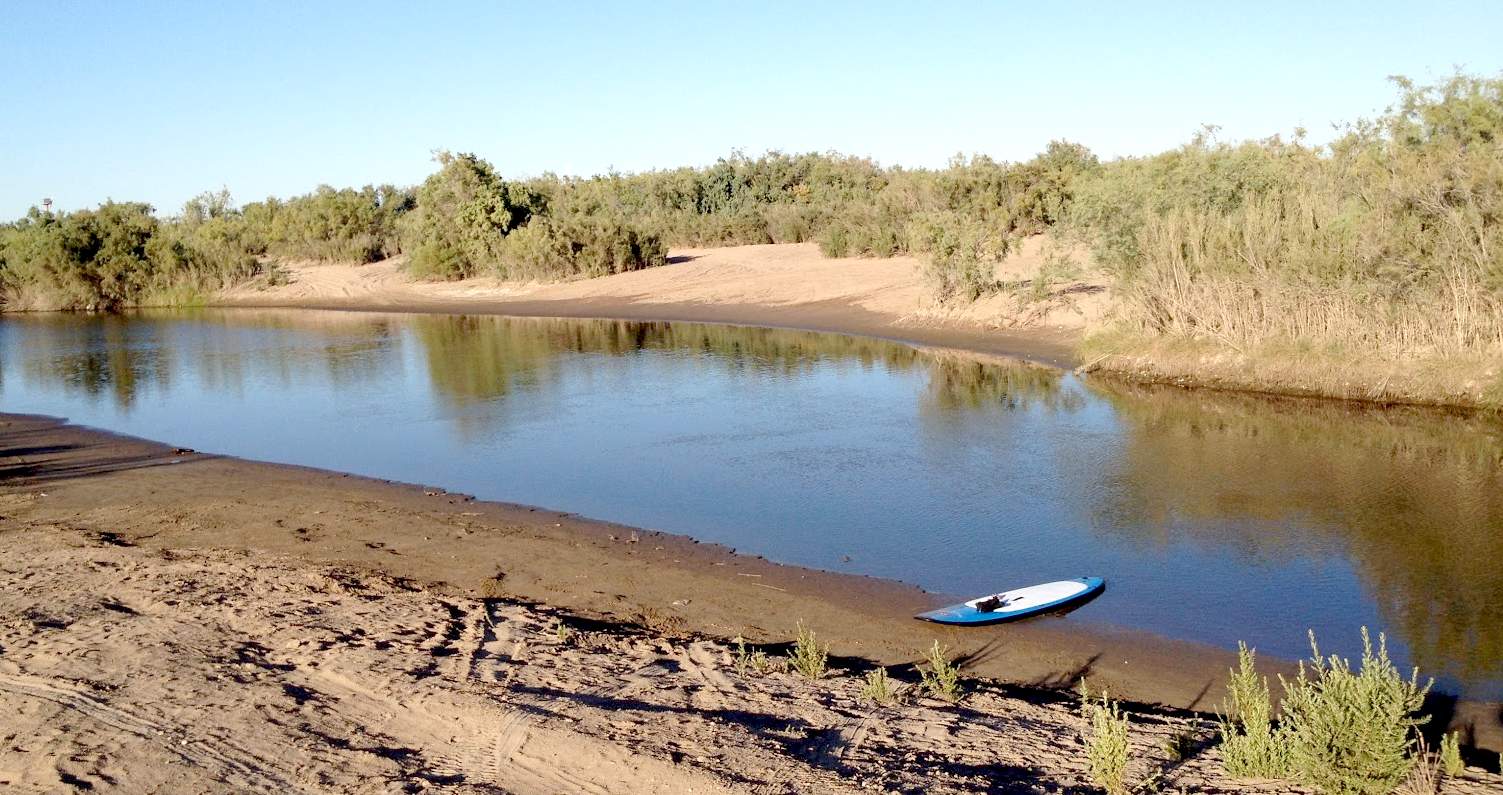 The Secretary of State is a person that has a duty to protect the public from threats to peaceful enjoyment of property - as it concerns planning and communities - and of course the right to life as per Article 2 of the HRA 1998.
This is a Duty as per Section 6 of the Human Rights Act 1998 to act compatibly with Articles 2 and Article 1 of Protocol 1 - and where he knows that a matter brought to his attention for the possibility of a call in, he has to be sure that the developers and the local authority properly considered the consequences of any violation of neighbours Human Rights, which in this present matter, the parties did not:
Public authorities
Acts of public authorities.
6. - (1) It is unlawful for a public authority to act in a way which is incompatible with a Convention right.

(2) Subsection (1) does not apply to an act if-

(a) as the result of one or more provisions of primary legislation, the authority could not have acted differently; or

(b) in the case of one or more provisions of, or made under, primary legislation which cannot be read or given effect in a way which is compatible with the Convention rights, the authority was acting so as to give effect to or enforce those provisions.

(3) In this section "public authority" includes-

(a) a court or tribunal, and

(b) any person certain of whose functions are functions of a public nature,

When taken in the context of a development that threatens peaceful enjoyment of a water supply, it must then be the duty of the Environment Agency, Wealden District Council and the Secretary of State for Communities, to ensure that the developers: Latimer Developments Ltd., and Clarion Housing Group Ltd., do not carry out any development that threatens to breach the right to peaceful enjoyment.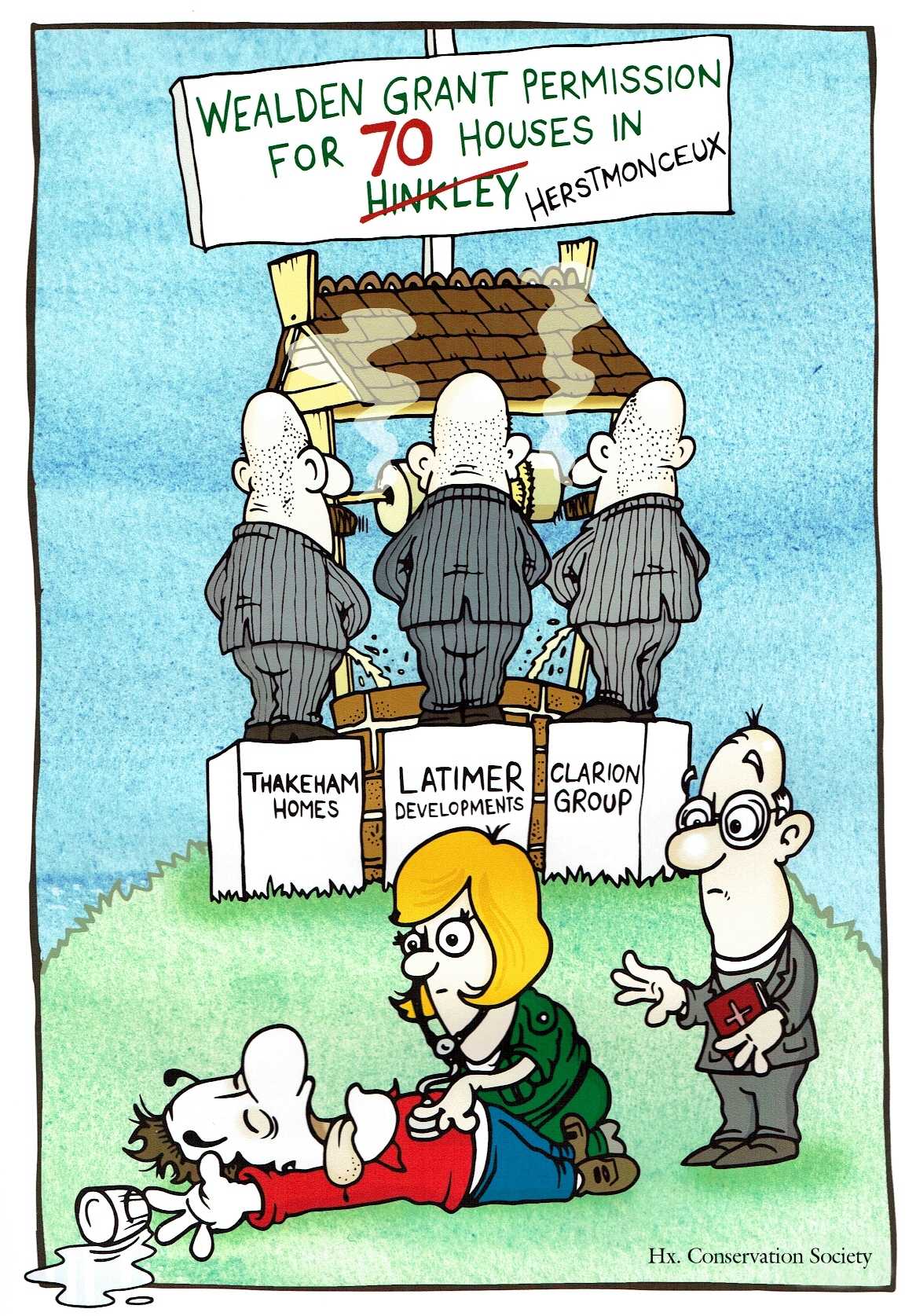 Herstmonceux Museum Ltd Vs Latimer Developments Ltd & Clarion Group Ltd 2021
A looming case involving a well and potential water contamination, where the property developers Latimer Developments and Clarion Housing Group Limited purchased land at Herstmonceux in East Sussex, from Timothy Watson (possibly via others) with the intention to build houses on a slope directly feeding ground water to Lime Well that is the only and original source of water to a historic site and the occupants of old generating buildings dating from 1909. Where gardens are planned and garages for cars are included, it is likely that pesticides used ordinarily by gardeners, and or oil spills from motor vehicles (and the like) will eventually soak into the groundwater such as to contaminate the water that is used for drinking and washing, etc. Whereas, the state must protect the occupants of the building from a real or potential threat of contamination such as to avoid threatening the continued use of such amenity, but that neither the developer, nor the Wealden District Council, took care to avoid an exclusion zone typically 100 one hundred meters upstream of Lime Well, contrary to Protocol 1, Article 1, the right to peaceful enjoyment of property and the right to life, as guaranteed by Article 2 of the HRA 1998.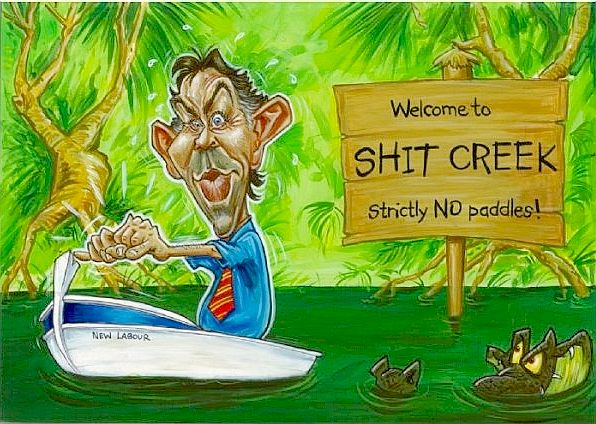 TONY BLAIR - Mistakes can be forgiven, attacking another country based on bogus intelligence is unforgivable. It is trying to justify what amounts to murder with bullshit.
WHAT IS A SHIT CREEK?
A creek is a small stream or a narrow, sheltered waterway, especially an inlet in a shoreline or channel in a marsh. "A sandy beach in a sheltered creek." A Shit Creek is a situation that is untenable, akin to be in a rowing boat in a river of shit, without any means of escaping the crap you are sitting in, because you have no oars.
ARE THEY SURE? - Southern Water say these are essential improvements. But are they? Many concerned residents are of the opinion that the village was already overloaded. Meaning that these works are more profiteering from over-development of the countryside. It's hot enough already without raising the temperature of planet earth more!

CABINET MPS -MARCH 2020
Chancellor Exchequer

Priti Patel

Home Secretary

Dominic Raab

Foreign Secretary

Michael Gove

Chancellor D. Lancaster

Ben Wallace

Defence Secretary

Matt Hancock

Health & Social Care

Liz Truss

International Trade

Gavin Williamson

Education

Oliver Dowden

Culture

Alok Sharma

MP Reading West

Robert Jenrick

Housing, Local Gov.

Therese Coffey

Work & Pensions

Robert Buckland

Justice

Anne-Marie Trevelyan

International Dev.

Transport

George Eustice

Environment

Brandon Lewis

Northern Ireland

Alister Jack

Scottish Sec. State

Simon Hart

Welsh Sec. State

Baroness Evans

Leader Lords

Amanda Milling

Party Chairman

Jacob Rees-Mogg

Leader Commons

Mark Spencer

Chief Whip

Suella Braverman

Attorney General

Stephen Barclay

Treasury Sec.
CONSERVATIVE MPS 2017-2020
Boris Johnson - Prime Minister

MP Uxbridge & South Ruislip

MP for Richmond, Yorkshire

MP Welwyn Hatfield

Philip Hammond

MP Runnymede & Weybridge

Alok Sharma

MP Reading West

Damian Green

MP for Ashford

Gavin Williamson

MP South Staffordshire

Liam Fox

MP North Somerset

David Lidlington

MP for Aylesbury

Baroness Evans

MP Bowes Park Haringey

Jeremy Hunt

MP South West Surrey

Justine Greening

MP for Putney

Chris Grayling

MP Epsom & Ewell

Karen Bradley

MP Staffordshire Moorlands

Michael Gove

MP Surrey Heath

David Gauke

MP South West Hertfordshire

Sajid Javid

MP for Bromsgrove

James Brokenshire

MP Old Bexley & Sidcup

Alun Cairns

MP Vale of Glamorgan

David Mundell MP

Dumfriesshire Clydes & Tweeddale

Patrick McLoughlin

MP Derbyshire Dales

Greg Clark

MP Tunbridge Wells

Penny Mordaunt

MP Portsmouth North

Andrea Leadsom

MP South Northamptonshire

Jeremy Wright

MP Kenilworth & Southam

Liz Truss

MP South West Norfolk

Brandon Lewis

MP Great Yarmouth

MP

Nus Ghani

MP Wealden

Huw Merriman

MP Battle

Steve Double

MP St Austell & Newquay

Sarah Newton

MP Truro & Falmouth

Rebecca Pow

MP Taunton Deane

Jacob Rees-Mogg

MP Somerset

Gavin Williamson

MP Staffordshire

Thérèse Coffey

MP Suffolk Coastal

Caroline Ansell

MP Eastbourne

.

David Davis

MP Haltemprice & Howden

Claire Perry

MP for Devizes

Amber Rudd

MP Hastings & Rye

.

Theresa May - former PM

MP for Maindenhead

David Cameron

Former Prime Minister

John Major

Former Prime Minister

Margaret Thatcher

Former Prime Minister
LINKS & REFERENCE
https://