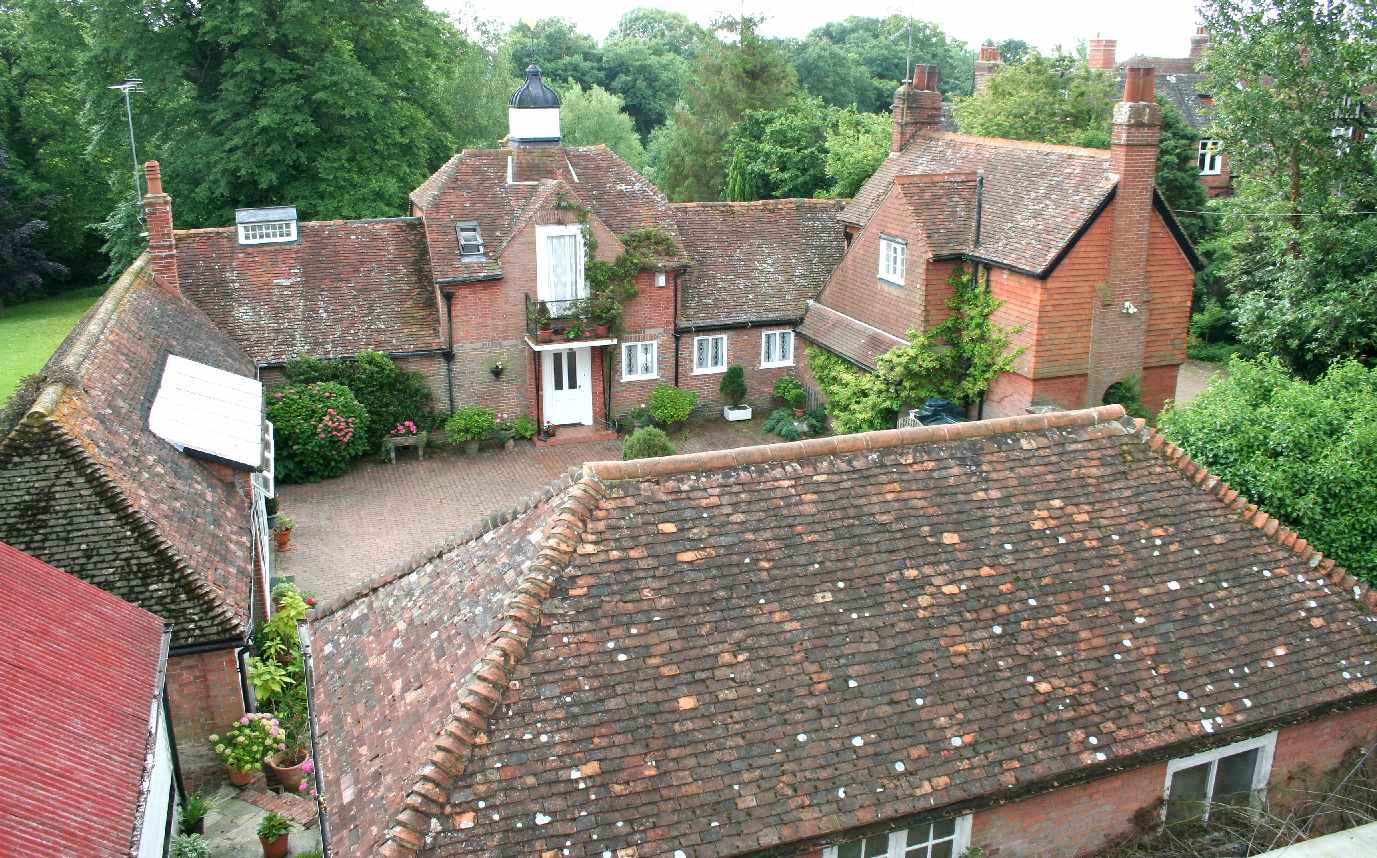 CONVERTED STABLES - Part of the Lime Park estate that once belonged to the Baron Karl von Roemer, and his son, Charles de Roemer, this nice stable square had been converted to residential accommodation with garages and a store. Now, the subject of a potential dispute under the Party Wall Act 1996, that was revealed in June of 2022, when the owner of this property failed to serve notice as to intended works.
After Peter Townley passed on 22nd September 2019, his daughter Alison Deshayes, put the Old Rectory property on the market, post grant of probate on 7th January 2020. There was a veritable scramble of viewings following the advertisement by Campbells, estate agents based in Battle, East Sussex, offers in excess of £750,000 pounds.
But none of the prospective purchasers could overcome the looming devaluation from the prospective development of 70 houses at Lime Cross. It transpired that developers had been seeking to purchase the half share of a pond, through which they wanted to pass contaminated surface water, thence onto a Site of Special and Scientific Interest (SSSI), known as the Pevensey Levels. That would make the sellers of any part of the pond, party to a potential criminal offence, should contamination harm the SSSI. As, inevitably, it would, without a long-term management scheme - assuming filtration beds might be employed as a cleansing mechanism to begin with. Unfortunately, these soon clog and are known not to be able to deal with hydrocarbons. And there is the matter of Great Crested Newts to consider, where the developers appear not to have undertaken a comprehensive wildlife survey.
Obviously, with large sums of money (£70,000) being bandied about, Alison Deshayes, was keen to explore the prospect of another dollop of cash, on top of her £1,000,000 million plus inheritance. She tried to make it a condition of sale for the prospective purchasers, but all of them declined, alerted to the potential criminal liability aspect. We assume partly because of this, and partly because of the proposed seventy houses, around half a dozen or so scouting Lime Park for a home, or investment, declined to purchase.
One can imagine the loss of amenity from 70 houses skirting the perimeter of your garden. Then there is the loss of wildlife in the pond, should anyone be hard-nosed enough to take the cash, despite the Wildlife Regulations implications and potential criminality, or vicarious liability.
Enter Jill Finn and Nigel Flood, who were married in 1992 (according to My Heritage). They have two children, Matthew and Harriet, both joining Ms Finn's race for life, cancer run. So, well done for that. Mr Flood was first noticed scouting the property boundaries in 2020, finally announcing himself as being an interested purchaser. He methodically introduced himself to most of the other occupiers in Lime Park. Giving the impression of being a property developer. Jill Finn is shown as being a Property Manager at Companies House. Ms Harriet Flood is known to have scouted properties for clients. Whereas Matthew Flood is shown on Linkedin as having worked at Making Moves London Ltd as a Business Development Manager to 2020, before that, Direct Flats as a Property Manager, in London from 2017 - 2019.
Thus, it appears that all four family members are, or have been (at some time) property professionals in one capacity or another.
In 2022, the owner/occupiers of The Rectory, applied for planning permission under WD/2022/0479/F, withdrawing that application but proceeding to build more or less that shown in that application, without the benefit of planning permission.
Not that unauthorized development is unlawful. It is just a curious fact that having applied for consent, that it should be withdrawn, with the construction allegedly drawn by Sam Finnis of Vector Planning and Design Limited, being undertaken by Christian Perez and others with Advance Space Building & Design Limited (allegedly).
No Notice was given as to intended ground works, as it appears to have been a legal requirement, according to the Party Wall Act 1996, as parts of the excavations were within three meters of an adjacent historic asset. No other notices in respect of Acts protecting historic monuments was given to any local authority in the prescribed format, as far as we are aware. But enquiries are ongoing, as it may be an offence not to do so.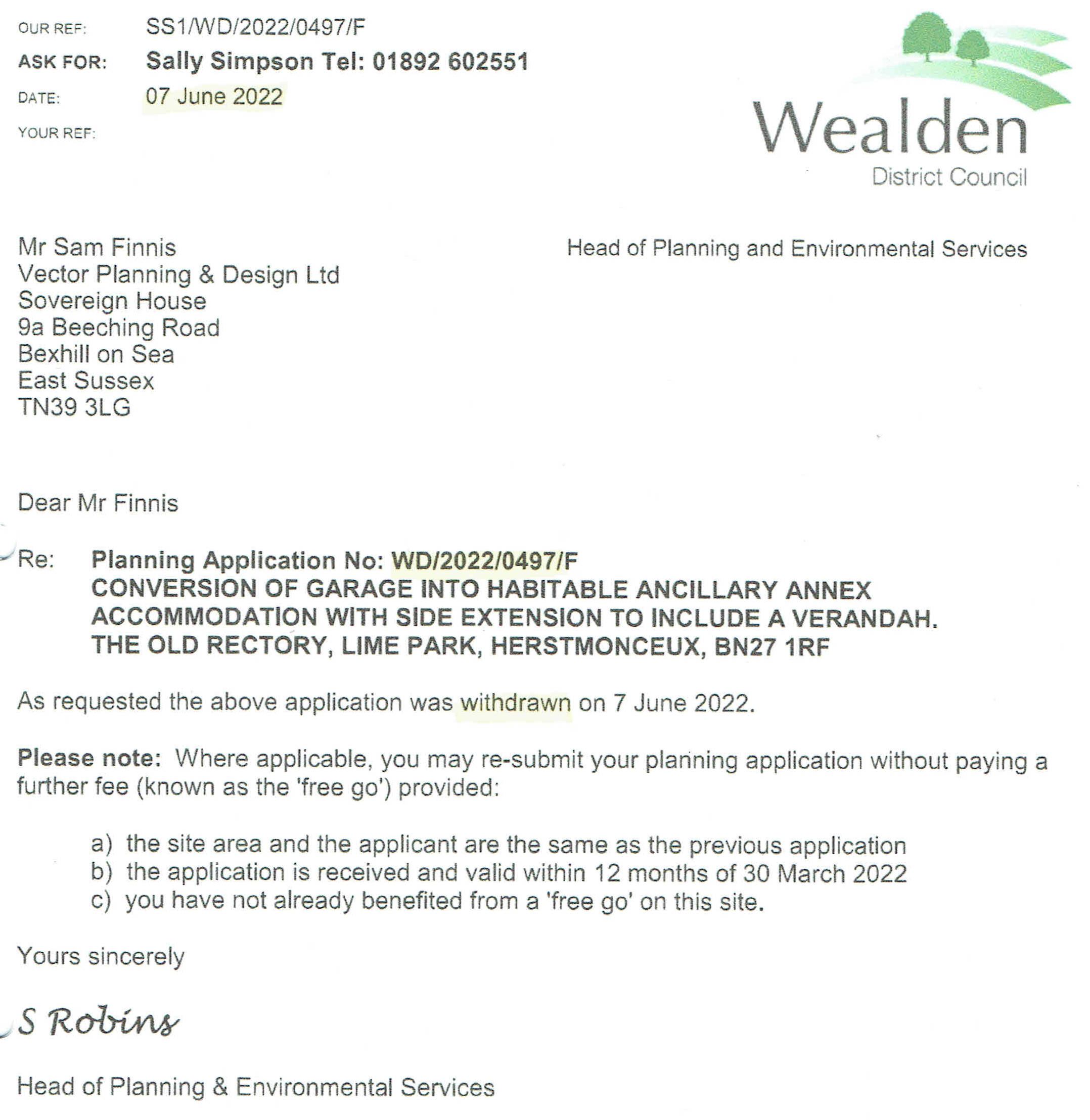 Stacey Robbins is the head of Wealden's planning department. The offer of a free re-submission was acted on with application WD/2022/1743/F. The application would be retrospective, the conversion having begun shortly after filing 0497, even though that application was withdrawn.
FULL BUILDING SERVICES LIMITED - Company number 11628865
Registered office address: 69 Washford Farm Road, Ashford, Kent, TN23 5YA

Company status: Active
Company type: Private limited Company
Incorporated on: 17 October 2018
Nature of business (SIC): 99999 - Dormant Company

FLOOD, Nigel

Correspondence address: Unit 20, The Glenmore Centre, Folkestone/Kent, United Kingdom, CT19 4RJ
Role ACTIVE: Director
Date of birth: February 1966
Appointed on: 17 October 2018
Nationality: British
Country of residence: United Kingdom
Occupation: Company Director


Miss Deborah Ann Lloyd ACTIVE
Correspondence address: 69 Washford Farm Road, Ashford, Kent, United Kingdom, TN23 5YA
Notified on: 17 August 2020
Date of birth: 29 December 1967
Nationality: British


27 Jul 2019 Registered office address changed from Studio 6, First Floor, 32-38 Scrutton Street, London, EC2A 4RQ England to Studio 210 134-146 Curtain Road, London, EC2A 3AR on 27 July 2019
It is unclear if the 'Nigel Flood' shown at Companies House, is the same person now occupying The Rectory in Lime Park. We await clarification, without which we must assume in the positive.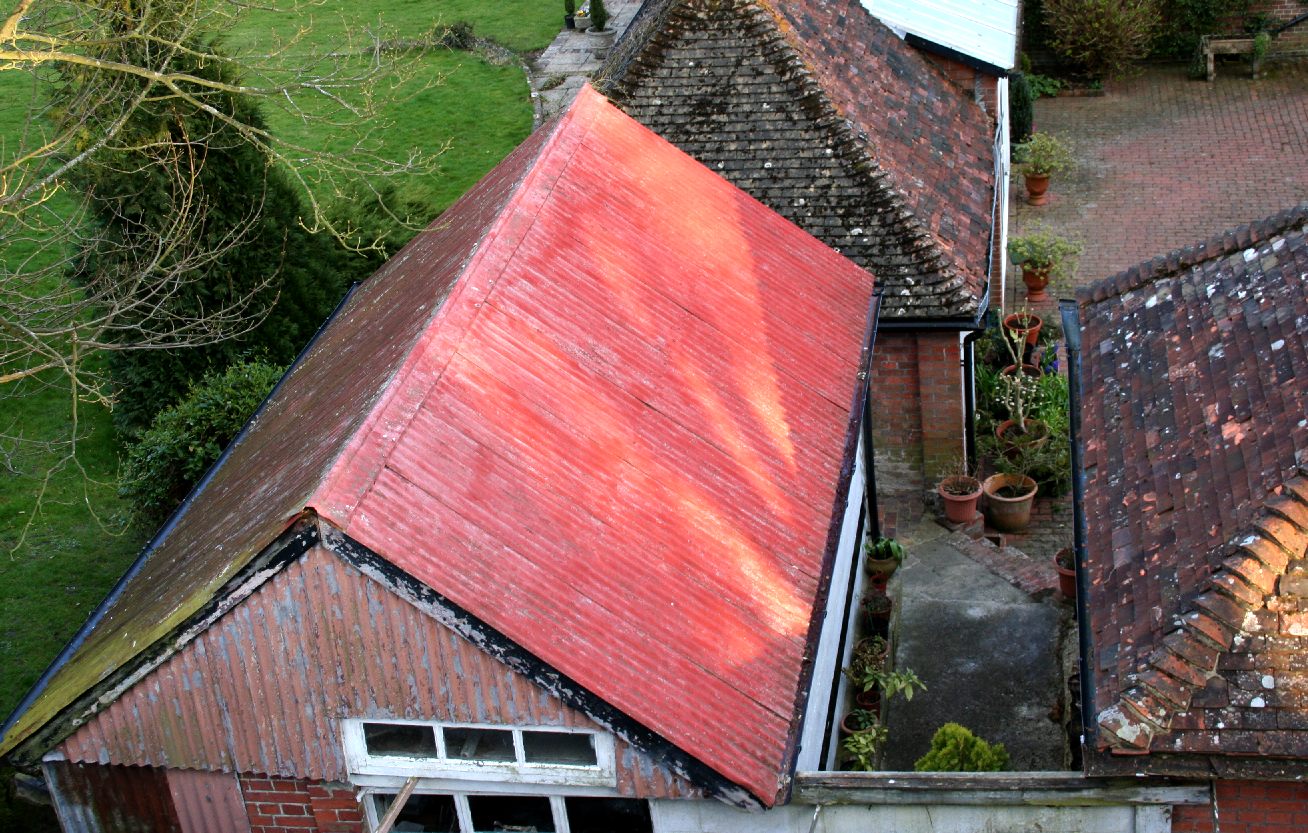 The potting shed is seen here with a corrugated iron roof, painted an orangey-pink colour by Peter Townley. This shed was demolished by the present occupiers, with Advance Space acting on behalf of their clients. The demolition took place without notice. Note, this picture was taken some time ago.
Access to Neighbouring Land Act 1992
Ancient Monuments and Archaeological Areas Act 1979
Beaumont Vs Florala 2020 - Right to Light case precedent
Planning (Listed Buildings and Conservation Areas) Act 1990
LINKS & REFERENCE
https://find-and-update.company-information.service.gov.uk/company/11628865/officers
https://find-and-update.company-information.service.gov.uk/company/11628865/filing-history