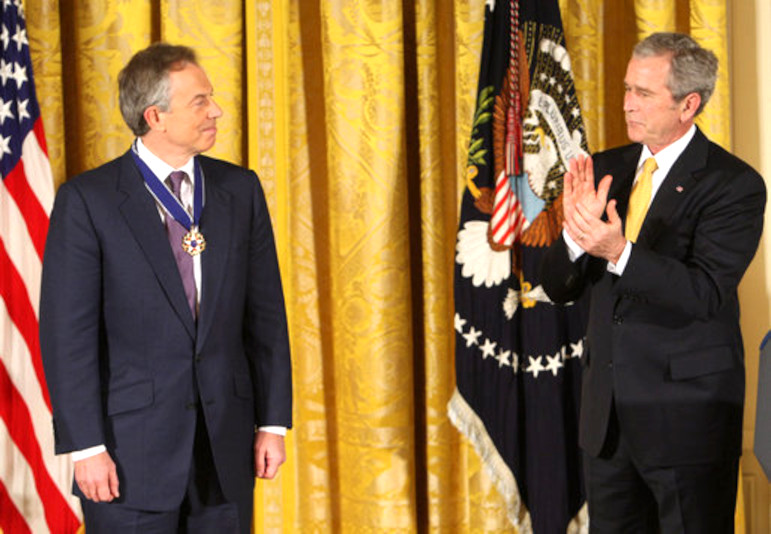 It appears that for helping the US with their invasion plans, George Walker Bush arranged that his warmongering ally should receive the Presidential Medal Of Freedom (MOF). Talk about patting each other on the back. The best thing about President Bush was his drive for hydrogen technology. By contrast Blair failed to implement climate change measures, address planning corruption or provide affordable houses to tackle financial slavery from the renting society that Margaret Thatcher created. Blair's idea for securing energy, as polluting oil, was to invade Iraq. Blair's knighthood is a kick in the teeth for the people of Afghanistan and Iraq.
THE HONOURS SYSTEM IS UP SHIT CREEK WITHOUT A PADDLE
A Petition has reached over 900,000 in a few days, calling for Tony Blair to be stripped of his award. Then topped 1.5 million, but was rejected by parliament - because they have rules that prevent citizens voting for change. That is the hallmark of a Constitutional Monarchy.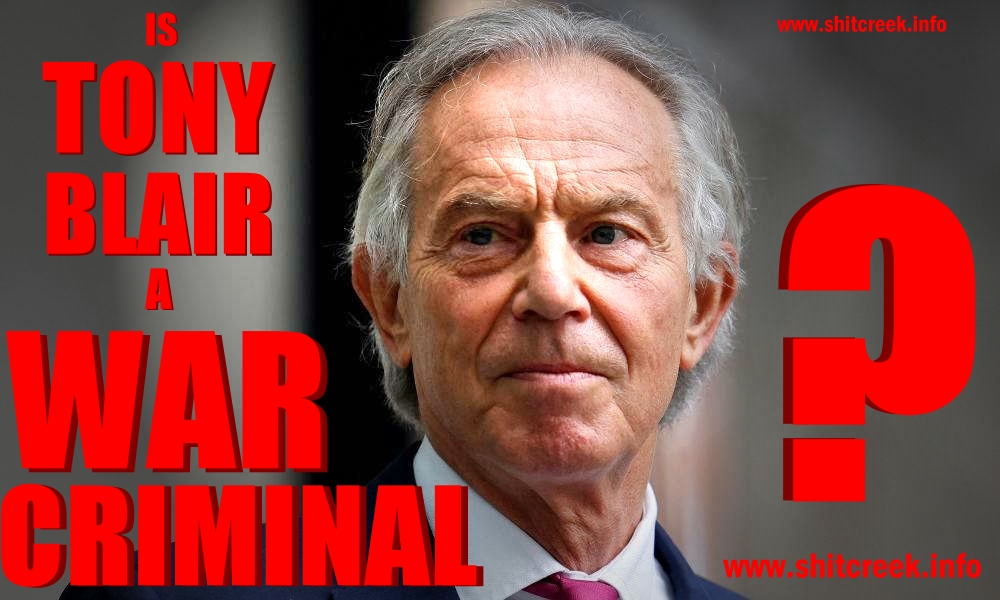 PRIMA FACIE - On the strength of the evidence before us, Tony Blair and his advisers at that time could be tried by the International Criminal Court, under the Rome Statute. Giving anyone a title for the deception alleged, is taking the piss. It is high time the British Honours System is revised, or even scrapped. In favour of a class-less society where everyone is recognised on their merits, rather than cronies and bribes.
THE GUARDIAN 4 JANUARY 2021 - UK government urged to rescind Tony Blair's knighthood

More than half a million people have called on the government to rescind the knighthood given to Sir Tony Blair, but Keir Starmer has defended the former prime minister, saying the honour was deserved.

The Labour leader said Blair was a worthy recipient of the Knight Companion of the Most Noble Order of the Garter, received in the new year honour's list.

"I don't think it's thorny at all. I think he deserves the honour. Obviously I respect the fact that people have different views," Starmer told ITV's Good Morning Britain.

"I understand there are strong views on the Iraq war. There were back at the time and there still are, but that does not detract from the fact that Tony Blair was a very successful prime minister of this country and made a huge difference to the lives of millions of people in this country."

Blair, who led Labour to three election victories, was prime minister during the allied military invasions of Iraq and Afghanistan.

The petition on Change.org was created by Angus Scott, who wrote: "Tony Blair caused irreparable damage to both the constitution of the United Kingdom and to the very fabric of the nation's society. He was personally responsible for causing the death of countless innocent, civilian lives and servicemen in various conflicts. For this alone he should be held accountable for war crimes."

The viral petition was not created on the parliamentary website, where petitions have legal standing. Petitions that are signed there by 10,000 people must receive a response from the government, and those signed by more than 100,000 people are considered for debate in parliament.

The appointment, which is made by the Queen, has regularly been bestowed upon past prime ministers, with Sir John Major – Blair's predecessor – the last to receive the honour. Appointments to the Garter are in the Queen's gift and made without prime ministerial advice.

The Commons Speaker, Sir Lindsay Hoyle, has also defended the honour's award. "Whatever people might think, it is one of the toughest jobs in the world," he said, "and I think it is respectful and it is the right thing to do … They should all be offered that knighthood when they finish as prime minister." [Horseshit]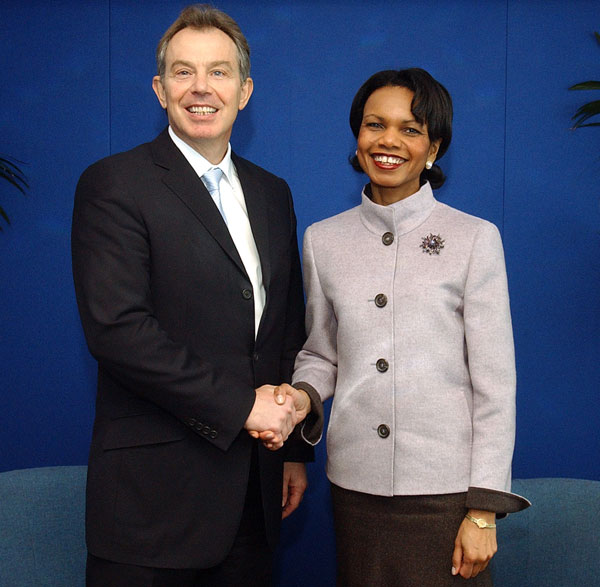 Prime Minister Tony Blair with Condoleezza Rice
In his first six years in office, Blair ordered British troops into combat five times, more than any other prime minister in British history. This included Iraq in both 1998 and 2003, Kosovo (1999), Sierra Leone (2000) and Afghanistan (2001).

As the casualties of the Iraq War mounted, Blair was accused of misleading Parliament, and his popularity dropped dramatically.

Labour's overall majority at the 2005 general election was reduced from 167 to 66 seats. As a combined result of the Blair–Brown pact, Iraq war and low approval ratings, pressure built up within the Labour Party for Blair to resign. Over the summer of 2006 many MPs, including usually supportive MPs, criticised Blair for not calling for a ceasefire in the 2006 Israel-Lebanon conflict. On 7 September 2006, Blair publicly stated he would step down as party leader by the time of the Trades Union Congress (TUC) conference held 10–13 September 2007, having promised to serve a full term during the previous general election campaign. On 10 May 2007, during a speech at the Trimdon Labour Club, Blair announced his intention to resign as both Labour Party leader and prime minister. This triggered the 2007 Labour Party leadership election, in which Brown was the only candidate for leader.

At a special party conference in Manchester on 24 June 2007, Blair formally handed over the leadership of the Labour Party to Gordon Brown, who had been Chancellor of the Exchequer in Blair's three ministries. Blair tendered his resignation on 27 June 2007 and Brown assumed office during the same afternoon. Blair resigned from his Sedgfield seat in the House of Commons in the traditional form of accepting the Stewardship of the Chiltern Hundreds, to which he was appointed by Gordon Brown in one of the latter's last acts as Chancellor of the Exchequer. The resulting Sedgefield by-election was won by Labour's candidate, Phil Wilson. Blair decided not to issue a list of Resignation Honours, making him the first prime minister of the modern era not to do so.

RUPERT MURDOCH

Blair was reported by The Guardian in 2006 to have been supported politically by Rupert Murdoch, the founder of the News Corporation organisation. In 2011, Blair became Godfather to one of Rupert Murdoch's children with Wendi Deng, but he and Murdoch later ended their friendship, in 2014, after Murdoch suspected him of having an affair with Deng while they were still married, according to The Economist magazine.

CONTACTS WITH UK MEDIA PROPRIETORS

A Cabinet Office freedom of information response, released the day after Blair handed over power to Gordon Brown, documents Blair having various official phone calls and meetings with Rupert Murdoch of News Corporation and Richard Desmond of Northern and Shell Media.

The response includes contacts "clearly of an official nature" in the specified period, but excludes contacts "not clearly of an official nature." No details were given of the subjects discussed. In the period between September 2002 and April 2005, Blair and Murdoch are documented speaking 6 times; three times in the 9 days before the Iraq War, including the eve of 20 March US and UK invasion, and on 29 January 25 April and 3 October 2004. Between January 2003 and February 2004, Blair had three meetings with Richard Desmond; on 29 January and 3 September 2003 and 23 February 2004.

The information was disclosed after a 3+1⁄2-year battle by the Liberal Democrats' Lord Avebury. Lord Avebury's initial October 2003 information request was dismissed by then leader of the Lords, Baroness Amos. A following complaint was rejected, with Downing Street claiming the information compromised free and frank discussions, while Cabinet Office claimed releasing the timing of the PM's contacts with individuals is undesirable, as it might lead to the content of the discussions being disclosed. While awaiting a following appeal from Lord Avebury, the cabinet office announced that it would release the information. Lord Avebury said: "The public can now scrutinise the timing of his (Murdoch's) contacts with the former prime minister, to see whether they can be linked to events in the outside world."

Blair appeared before the Leveson Inquiry on Monday 28 May 2012. During his appearance, a protester, later named as David Lawley-Wakelin, got into the court-room and claimed he was guilty of war crimes before being dragged out.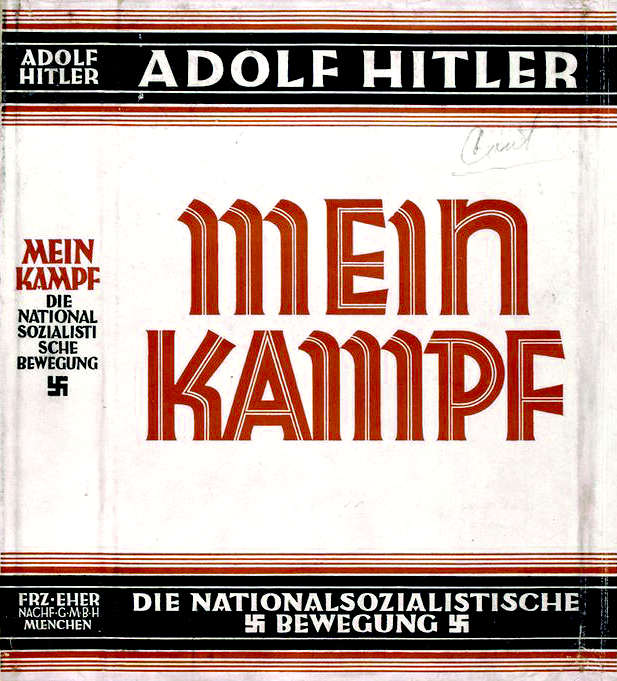 A famous book by war criminal Adolf Hitler
MEMOIRS

In March 2010, it was reported that Blair's memoirs, titled The Journey, would be published in September 2010. In July 2010 it was announced the memoirs would be re-titled A Journey (Mien Kampf). The memoirs were seen by many as controversial and a further attempt to profit from his office and from acts related to overseas wars that were widely seen as wrong, leading to anger and suspicion prior to launch.

On 16 August 2010 it was announced that Blair would give the £4.6 million advance and all royalties from his memoirs to the Royal British Legion – the charity's largest ever single donation.

Media analysis of the sudden announcement was wide-ranging, describing it as an act of "desperation" to obtain a better launch reception of a humiliating "publishing flop" that had languished in the ratings, "blood money" for the lives lost in the Iraq and Afghanistan wars, an act with a "hidden motive" or an expression of "guilt", a "genius move" to address the problem that "Tony Blair had one of the most toxic brands around" from a PR perspective, and a "cynical stunt to wipe the slate", but also as an attempt to make amends. Friends had said that the act was partly motivated by the wish to "repair his reputation".

The book was published on 1 September and within hours of its launch had become the fastest-selling autobiography of all time. On 3 September Blair gave his first live interview since publication on The Late Late Show in Ireland, with protesters lying in wait there for him. On 4 September Blair was confronted by 200 anti-war and hardline Irish nationalist demonstrators before the first book signing of his memoirs at Eason's bookstore on O'Connell Street in Dublin, with angry activists chanting "war criminal" and that he had "blood on his hands", and clashing with Irish Police (Garda Síochána) as they tried to break through a security cordon outside the Eason's store. Blair was pelted with eggs and shoes, and encountered an attempted citizen's arrest for war crimes.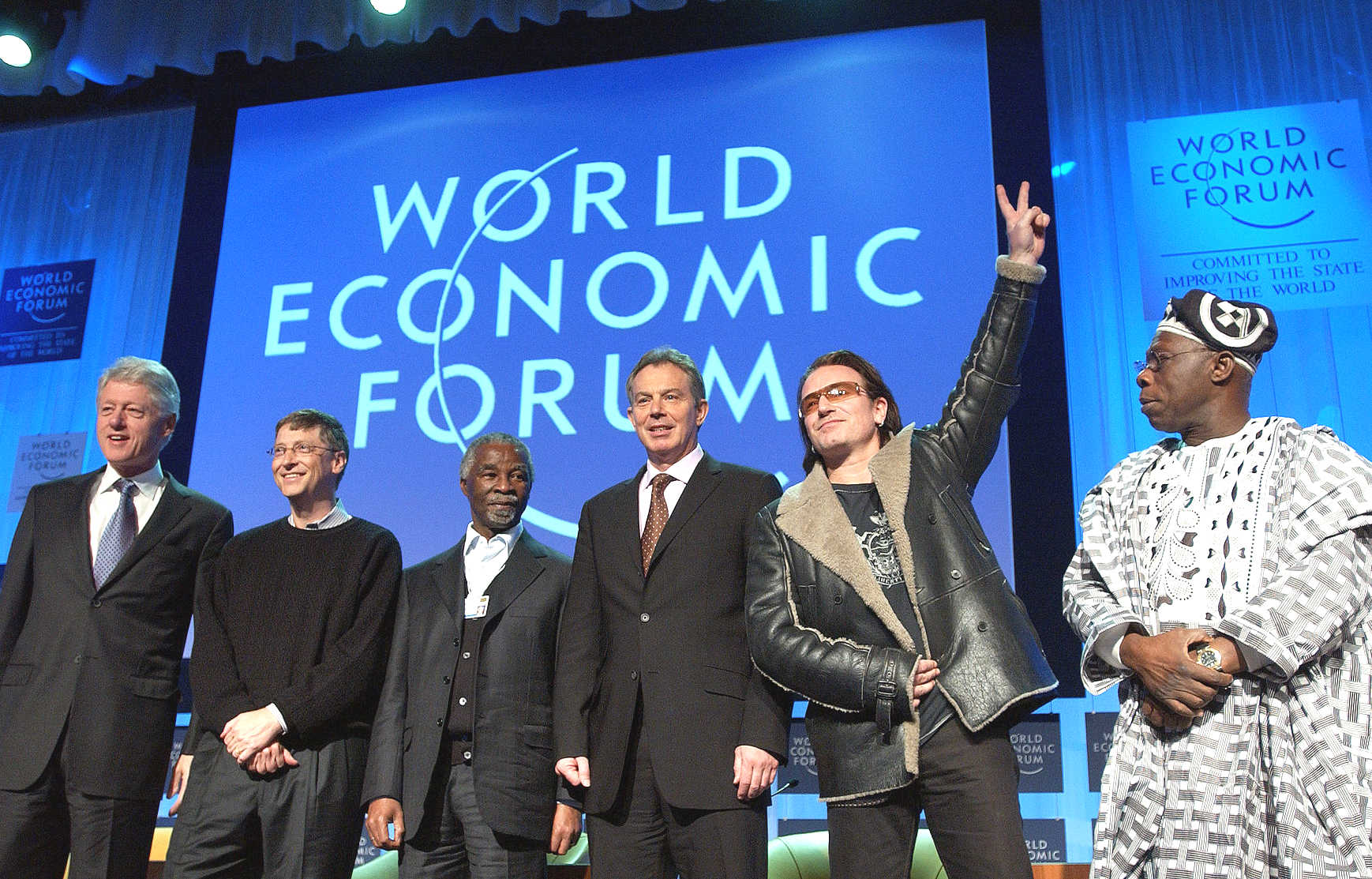 ACCUSATIONS OF WAR CRIMES

Since the Iraq War, Blair has been the subject of war crimes accusations. Critics of his actions, including Bishop Desmond Tutu, Harold Pinter and Arundhati Roy have called for his trial at the International Criminal Court.

In November 2011, a war crimes tribunal of the Kuala Lumpur War Crimes Commission, established by Malaysia's former Prime Minister Mahathir Mohamad, reached a unanimous conclusion that Blair and George W. Bush are guilty of crimes against peace, crimes against humanity, and genocide as a result of their roles in the 2003 Iraq War. The proceedings lasted for four days, and consisted of five judges of judicial and academic backgrounds, a tribunal-appointed defence team in lieu of the defendants or representatives, and a prosecution team including international law professor Francis Boyle.

In September 2012, Desmond Tutu suggested that Blair should follow the path of former African leaders who had been brought before the International Criminal Court in The Hague. The human rights lawyer Geoffrey Bindman, interviewed on BBC radio, concurred with Tutu's suggestion that there should be a war crimes trial. In a statement made in response to Tutu's comments, Blair defended his actions. He was supported by Lord Falconer, who stated that the war had been authorised by United Nations Security Council Resolution 1441. But that had been on incorrect information - the source of which needed to be identified, to be able to lay the blame.

In July 2017, former Iraqi general Abdulwaheed al-Rabbat launched a private war crimes prosecution, in the High Court in London, asking for Tony Blair, former foreign secretary Jack Straw and former attorney general Lord Goldsmith to be prosecuted for "the crime of aggression" for their role in the 2003 invasion of Iraq. The High Court ruled that, although the crime of aggression was recognised in international law, it was not an offence under UK law, and, therefore, the prosecution could not proceed.

RESPONSE TO THE IRAQ INQUIRY

The Chilcot report after the conclusion of the Iraq Inquiry was issued on 6 July 2016 and it criticised Blair for joining the US in the war in Iraq in 2003. Afterwards, Blair issued a statement and held a two-hour press conference to apologise and to justify the decisions he had made in 2003 "in good faith" and denying allegations that the war had led to a significant increase in terrorism. He acknowledged that the report made "real and material criticisms of preparation, planning, process and of the relationship with the United States" but cited sections of the report that he said "should lay to rest allegations of bad faith, lies or deceit". He stated: "whether people agree or disagree with my decision to take military action against Saddam Hussein; I took it in good faith and in what I believed to be the best interests of the country. ... I will take full responsibility for any mistakes without exception or excuse. I will at the same time say why, nonetheless, I believe that it was better to remove Saddam Hussein and why I do not believe this is the cause of the terrorism we see today whether in the Middle East or elsewhere in the world".

IRAN-WEST TENSIONS

Blair wrote in an op-ed published by The Washington Post on 8 February 2019: "Where Iran is exercising military interference, it should be strongly pushed back. Where it is seeking influence, it should be countered. Where its proxies operate, it should be held responsible. Where its networks exist, they should be disrupted. Where its leaders are saying what is unacceptable, they should be exposed. Where the Iranian people — highly educated and connected, despite their government — are protesting for freedom, they should be supported." The Tony Blair Institute for Global Change warned of growing Iranian threat. The Tony Blair Institute confirmed that it has received donations from the U.S. State Department and Saudi Arabia.

HONOURS

In May 2007, Blair was invested as a paramount chief by the chiefs and people of Mahera village, Sierra Leone. The honour was bestowed upon him in recognition of the role played by his government in the Sierra Leone Civil War.

On 22 May 2008, Blair received an honorary law doctorate from Queen's University Belfast, alongside former Taoiseach Bertie Ahern, for distinction in public service and roles in the Northern Ireland peace process.

On 13 January 2009, Blair was awarded the Presidential Medal of Freedom by President George W. Bush. Bush stated that Blair was given the award "in recognition of exemplary achievement and to convey the utmost esteem of the American people" and cited Blair's support for the War on Terror and his role in achieving peace in Northern Ireland as two reasons for justifying his being presented with the award.

On 16 February 2009, Blair was awarded the Dan David Prize by Tel Aviv University for "exceptional leadership and steadfast determination in helping to engineer agreements and forge lasting solutions to areas in conflict". He was awarded the prize in May 2009.

On 8 July 2010, Blair was awarded the Order of Freedom by the President of Kosovo, Fatmir Sejdiu. As Blair is credited as being instrumental in ending the conflict in Kosovo, some boys born in the country following the war have been given the name Toni or Tonibler.

On 13 September 2010, Blair was awarded the Liberty Medal at the National Constitution Center in Philadelphia, Pennsylvania. It was presented by former President Bill Clinton, and is awarded annually to "men and women of courage and conviction who strive to secure the blessings of liberty to people around the globe".

On 31 December 2021 it was announced that the Queen had appointed Blair a Knight Companion of the Order of the Garter (KG). In May 2007, before his resignation, it was speculated that Blair would be offered a knighthood in the Order of the Thistle, owing to his Scottish background (rather than the Garter, which is usually offered to former prime ministers with connections to the other three home nations). Reportedly, Blair had indicated that he did not want the traditional knighthood or peerage bestowed on former prime ministers.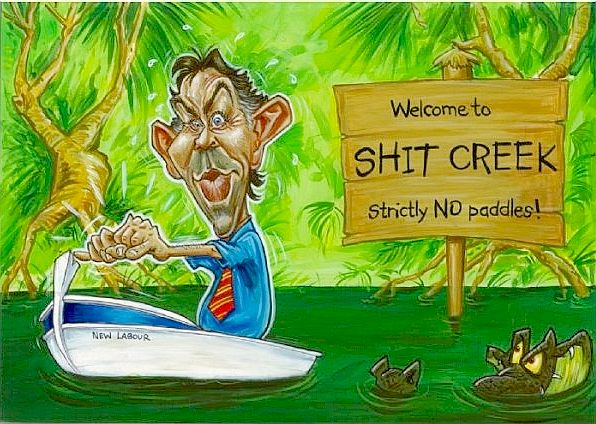 TONY BLAIR - Mistakes can be forgiven, but attacking another country based on bogus intelligence is unforgivable. It is trying to justify what amounts to murder with bullshit.
LINKS & REFERENCE
https://www.parlia.com/c/tony-blair-war-criminal
https://www.msn.com/en-gb/news/uknews/tony-blair-knighthood-a-kick-in-the-teeth-for-the-people-of-iraq-and-afghanistan/ar-AASkZTb
https://www.msn.com/en-gb/news/uknews/daily-mail-comment-award-that-mocks-the-memory-of-our-dead/ar-AASr7zH
https://www.parlia.com/c/tony-blair-war-criminal
https://www.msn.com/en-gb/news/uknews/tony-blair-knighthood-a-kick-in-the-teeth-for-the-people-of-iraq-and-afghanistan/ar-AASkZTb
https://www.msn.com/en-gb/news/uknews/daily-mail-comment-award-that-mocks-the-memory-of-our-dead/ar-AASr7zH