ONE RULE FOR US, ANOTHER FOR THE PEASANTS - Controversial picture of Boris Johnson and wife Carrie, at a social gathering at number 10 Downing Street. But, so far Scotland Yard has decided not to investigate.
Anyone who knows even a little about the law, will known that a failure to investigate a crime, implicates those who fail in their duty, as per the Accessories and Abettors Act 1861, linked to the Magistrates Court Act 1980.

Section 8 of the Act, as amended, reads:

"Whosoever shall aid, abet, counsel, or procure the commission of any indictable offence, whether the same be an offence at common law or by virtue of any Act passed or to be passed, shall be liable to be tried, indicted, and punished as a principal offender."

SUMMARY OFFENCES - The Act does not apply to summary offences, but section 44 (1) of the Magistrates' Courts Act 1980 is to the like effect:

"A person who aids, abets, counsels or procures the commission by another person of a summary offence shall be guilty of the like offence... "
It appears to follow, that any failure on the part of any police force to properly investigate these matters, renders the force abandoning their duty, just as guilty as the perpetrators of the alleged crimes. Clearly, this calls into question the independence of our law enforcement agencies. The suspects should at least be interviewed under caution, computers and other mobile communication devices seized for forensic examination - and rather quickly - such to prevent devices that are potential evidence from going missing. Do we live in an accountable democracy, or don't we. Are we in effect, a police state. One of the leading cases, setting a common law precedent for misfeasance in public office, is that of R V Bowden 1995 Court of Appeal (98 1 WLR), that becomes malfeasance, once a police constable, or even chiefs of crime prevention, detection and prosecution such as, Cressida Dick, fail to do their duty. Most obviously a prosecution is in the public interest. No matter who the culprit is. Because, nobody is above the law. Not even Boris.

31st JANUARY 2022
The Sue Gray Report has finally been published, and it's much more explosive than expected.

Even though the report has yet to be published with its complete findings, the nine-page document into No 10 and Whitehall parties during lockdown has criticised a "serious failure" to observe the high standards expected of those working at the heart of Government.

The version of Ms Gray's report published online said "it seems there was too little thought given to what was happening across the country in considering the appropriateness of some of these gatherings, the risks they presented to public health and how they might appear to the public".

The Downing Street garden was used for gatherings "without clear authorisation or oversight" in a way that was "not appropriate".

The report also criticised "failures of leadership and judgment" by parts of No 10 and the Cabinet Office.
MIRROR 17 JANUARY 2022 - NEW No10 PARTY REVEALED AS BORIS JOHNSON SET TO BLAME AIDES TO SAVE HIS JOB
As the heat grows on Boris Johnson over a string of No10 lockdown parties the cowardly PM looks set to shift the blame away from himself in a desperate bid to save his own skin.

Rather than accept any responsibility for the scandal engulfing Downing Street, he is instead likely to throw a bunch of civil service flunkies under the bus, who could now face the axe.

But it comes as the Mirror can reveal Mr Johnson attended a leaving do for his defence adviser in the run-up to Christmas 2020 and gave a speech.

And fresh doubts were raised on the PM's claim he did not know in advance about the No10 garden bash on May 20 of that year after Sunday Times columnist Dominic Lawson claimed at least two people had warned him the email invite to staff made it clear it was a party and it should have been stopped.

If true, it blows his half-hearted apology for ­ Partygate last week out of the water and means he faces claims he breached the ministerial code by misleading the Commons.

To add further pressure on Mr Johnson, his wife Carrie was photographed breaking Covid social distancing rules in September 2020.

The PM will hide behind claims he is to crack down on the "culture" at No10 in his bid to deflect any blame.

Those who could be singled out for blame inclde his PM's principal private secretary Martin Reynolds – who sent the May 20 party invite – his deputy Stewart ­ Glassborow and chief of staff Dan Rosenfeld.

But Mr Lawson's claims suggest Mr Johnson knew more about the parties than he let on.

The well-connected columnist said: "Last week I spoke to a former Downing Street official who said at least two people had told the PM, after seeing the emailed ­ invitation from Martin Reynolds that this was 'a party' and should be immediately cancelled.

"I was told that Johnson's dismissive response was to say they were 'overreacting' and to praise Reynolds as 'my loyal Labrador'.

"I then asked someone who has known the PM for decades what could have made him take such an approach (other than natural hospitality and affability).

"His immediate answer was: 'It's because deep down he obviously thought the regulations were ridiculous, so why should he observe them?'"

No10 insisted: "It is untrue that the Prime Minister was warned about the event in advance.

"As he said earlier this week he believed implicitly that this was a work event."

We can reveal Mr Johnson gave a speech at an event to mark defence adviser Captain Steve Higham's Downing Street departure before Christmas in 2020.

It is understood the PM was "there for a few minutes to thank him for his service" as a "small number of No10 staff briefly said goodbye".

The MoD declined to comment.

Our revelation could give senior civil servant Sue Gray more material to consider as part of her probe into the Downing Street parties.

Tory chairman Oliver Dowden signalled civil servants would take the rap for the rule breaking parties.

He said: "The PM is ­ determined to make sure that this can't be allowed to happen and that we address the underlying culture in Downing Street. There were failings, we should have done better."

The Mirror told on Saturday how Mr Johnson attended some "wine time" Friday events at No10.

His wife Carrie Johnson was snapped embracing a pal at a club in London at the friend's engagement party. Guidance at the time included remaining two metres apart.

Carrie's spokeswoman said: "Mrs Johnson regrets the momentary lapse in judgement." As Labour surged ahead in the polls, Former minister Tim Loughton yesterday became the fifth Tory to publicly call for Mr Johnson to quit.

Mr Johnson launched "Operation Red Meat" in a desperate bid to win back mutinous MPs and furious voters.

One strategy involves bringing in the Navy to halt refugee Channel crossings.

But what about the Genocide Convention? Migrants who are displaced, must be allowed safe haven. The fact is that with our house building boom, we are part of the present Ecocidal trend that is warming the planet and changing our climate. And as such, every country must shoulder their part of the blame.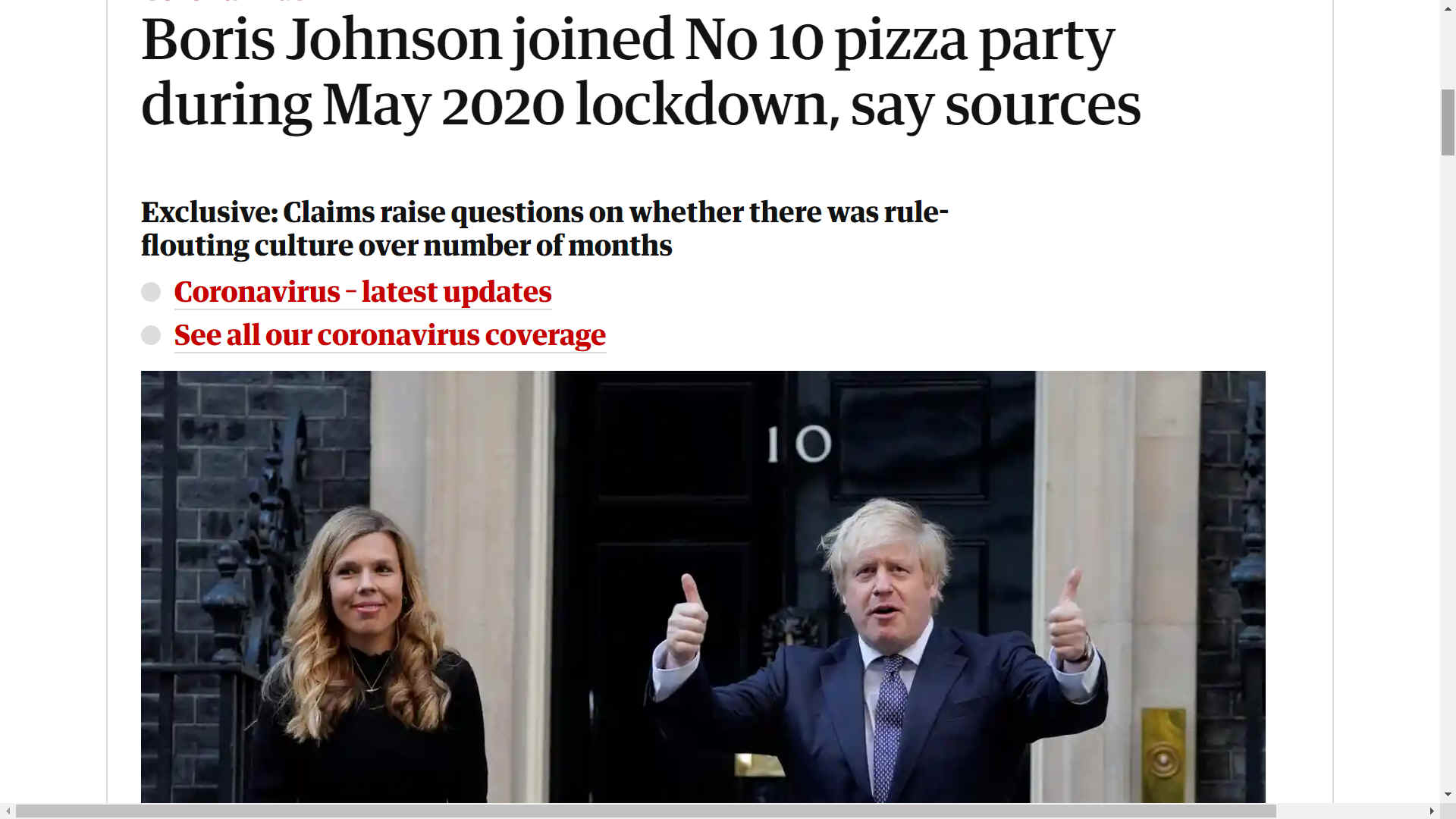 Somehow, despite many scandals of a sexual nature, 'Boris the Johnson' has managed to cling onto Clowning Street, allegedly, the most corrupt city in the world, apparently, decorated in gaudy gold flock wallpaper more suited to a brothel. In the media, it is said, presumably allegedly, that he has fathered many children, in and out of wedlock, earning him the name Shagatha Christie. Johnson by name, Johnson by nature.
Normally, that would call into question his morals. But because he was elected to deal with Brexshit, everybody turned a blind eye. Even the Queen, where she was lied to over proroguing parliament. But then she is or was patron of the Masons. Where you always protect a brother in difficulty, even if he's caught failing to declare conflicts of interest, against the MPs parliamentary code of conduct, or have to pervert the course of justice.
But Johnson could be forgiven if he knew what he was doing. Unfortunately, almost everything he touchess turns to crap. Like the UK economy and safeguarding of pensioner's savings. He is the exact opposite of Midas and Austin Power's Goldmember. He is Shitfinger, spawned of Thomas Crapper, taking a dump on British politics and the electorate. Including violating their Human Rights with compulsory Covid Jabs. It stinks of Thatcherism to us.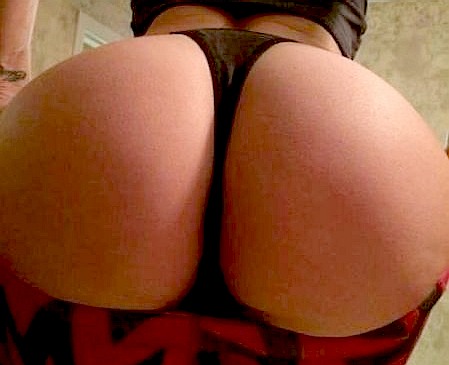 BRITAIN GOT ANOTHER BUM DEAL - In electing a clown as Prime Minister, UK voters made one of the biggest mistakes in British history. Brexit was and is a disaster, costing pensioners an absolute fortune, as real world inflation halved the value of their savings, with timber, copper and other commodities doubling in price in two years of Covid mishandling. Then there is the energy crises and nuclear power, with food prices escalating. We feel sure that Dr Hannibal Lecter would like to have his old friend for dinner. It might be that some Conservative Party members might also want to join in the feast.
THE MAFIA ? - MARCH 2020
Chancellor Exchequer

Priti Patel

Home Secretary

Dominic Raab

Foreign Secretary

Michael Gove

Chancellor D. Lancaster

Ben Wallace

Defence Secretary

Matt Hancock

Health & Social Care

Liz Truss

International Trade

Gavin Williamson

Education

Oliver Dowden

Culture

Alok Sharma

MP Reading West

Robert Jenrick

Housing, Local Gov.

Therese Coffey

Work & Pensions

Robert Buckland

Justice

Anne-Marie Trevelyan

International Dev.

Transport

George Eustice

Environment

Brandon Lewis

Northern Ireland

Alister Jack

Scottish Sec. State

Simon Hart

Welsh Sec. State

Baroness Evans

Leader Lords

Amanda Milling

Party Chairman

Jacob Rees-Mogg

Leader Commons

Mark Spencer

Chief Whip

Suella Braverman

Attorney General

Stephen Barclay

Treasury Sec.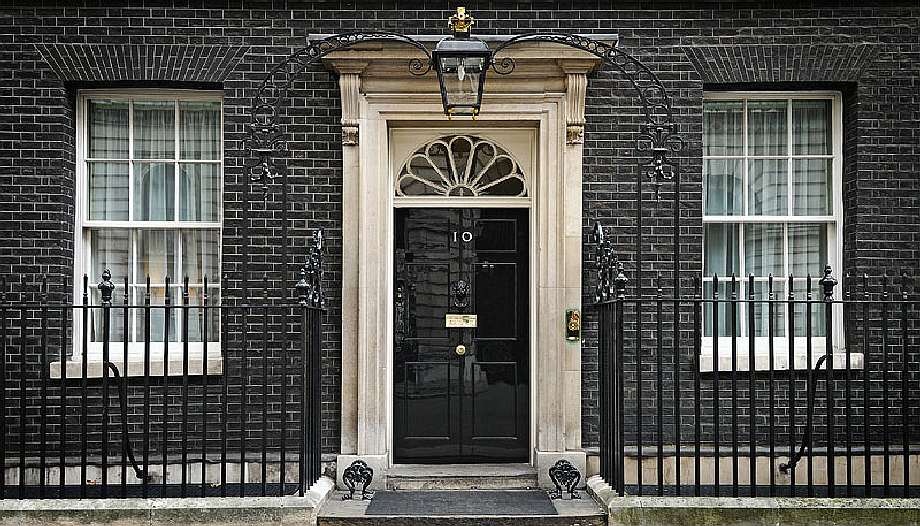 Conservative politics is based on delaying economic shortcomings by robbing Peter to pay Paul. One example of which is allowing drug money into the country for laundering, to purchase the boom in executive housing, so perpetuating the renting society, and costing ratepayers a small fortune in council tax payments to those wealthy drug landlords who the Land Registry, in collaboration with our police forces, are doing nothing about. It stinks!
Another example of which is over-paying for roads and only 5% of your hard earned taxes going to road building and repairs. That is why we have so many potholes: hence, pothole politics. The evidence for which on on the streets and highways in your area.
In Sussex the busy A271, makes commuting to Hastings or Hailsham dangerous, where the tarmac is narrow and flooding is likely to increase. Why is it so bad? Because under Cameron, May and now BoJo, they are turning our villages into housing estates, without the proper highways infrastructure. See Suicide Junction, as a prime example of planning madness.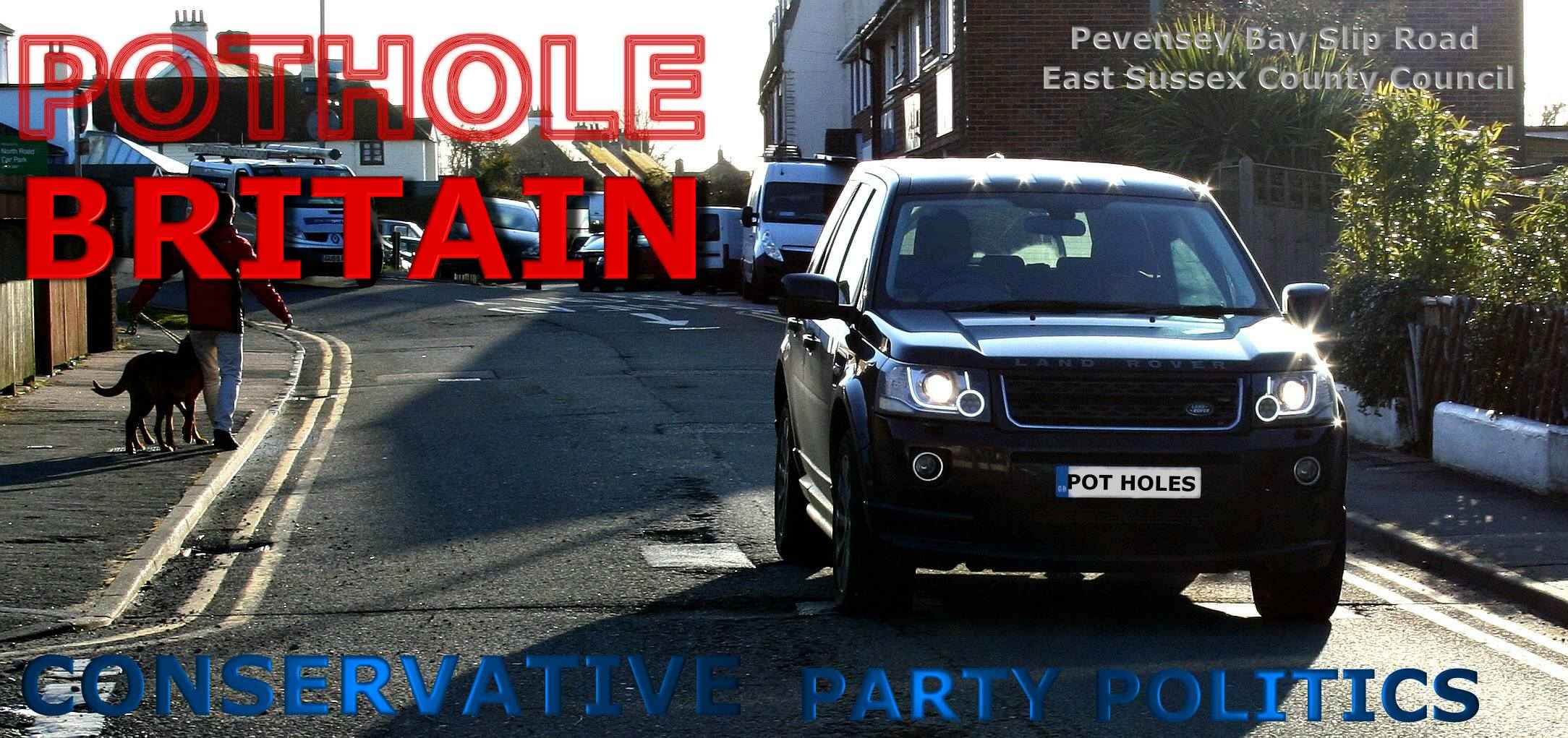 DOWNRIGHT DANGEROUS - We pay our taxes but get no value for all our hard earned pounds. Don't forget that our income is taxed along with just about everything we buy. Even buying a house is subject to stamp duty and dying also costs money with death duties. Shit! How are they getting away with bleeding the electorate dry like this? Fuel is taxed, drinks are taxed (that's okay by us), and using roads is taxed. Then there is car tax of course. We heard they are thinking of taxing sex, based on the length of your Johnson.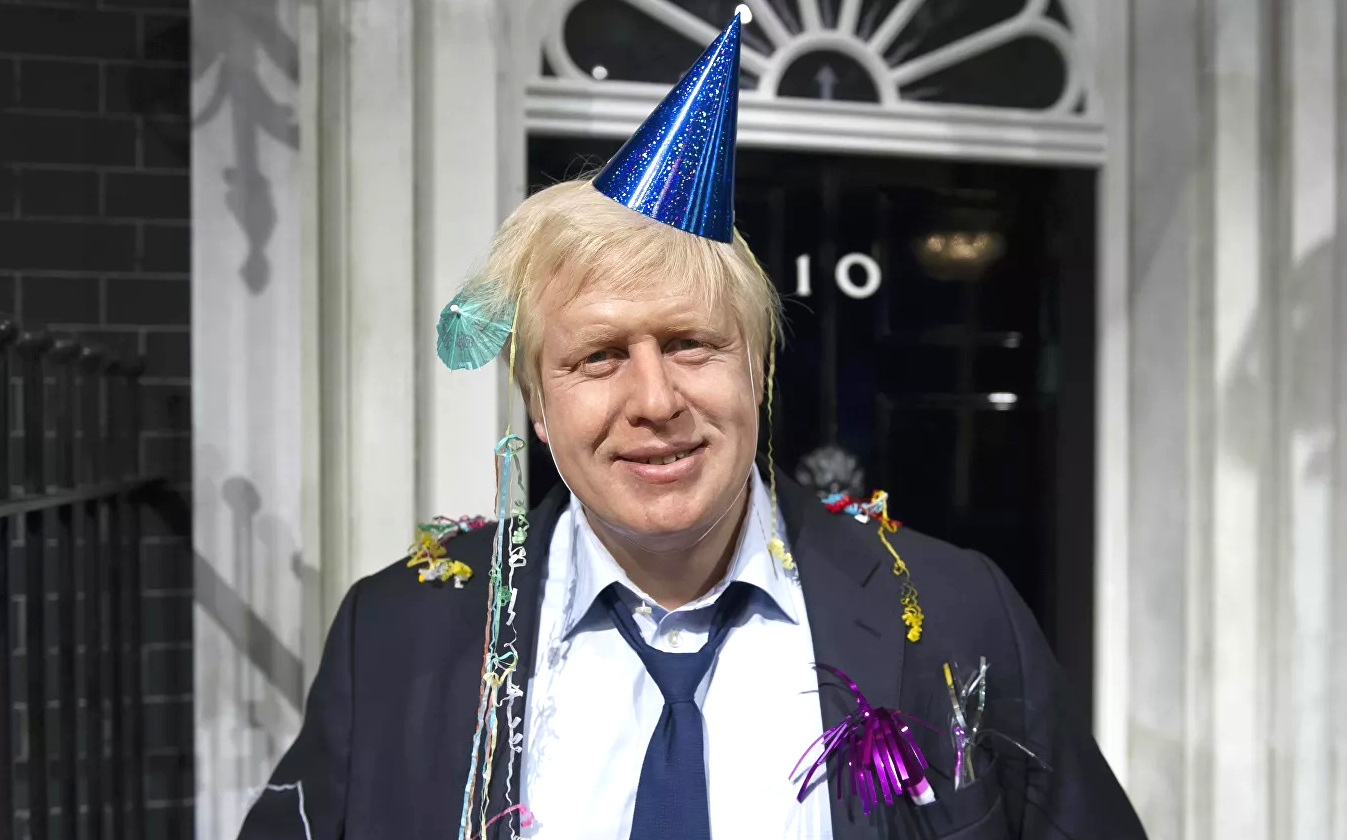 DOWNRIGHT DANGEROUS - It is alleged, or rather, has become increasingly likely that on the 18th of December 2020, a Christmas party was held at Number 10 Downing Street, during a tier 3 Covid 19 lockdown.
This revelation, supported as it seems by a staff training video, featuring the delightfully honest, Allegra Stratton, has really set the cat amongst the pigeons, with everyone diving for cover. Oh come on, everybody did it. The idea was to control the peasants and ease our mucked up NHS, where we've squandered taxpayer's money on dozens of schemes that have turned out to be more bullshit than Bojo had expected of his cronies. Like the Drax biofuel generating station, based on tree planting as a carbon offset. Who thought up that one? Doesn't anyone know that trees take a lot longer to grow, than this power station consumes them. Then there is Hinkley Point and Sizewell C. Doesn't anybody in the Cabinet know nuclear power is more expensive than renewables, and what about radioactive waste management, that is impossible to say is safe - for hundreds of thousands of years. It never was, and never will be. All the corporations will cease to exist. Leaving the taxpayer footing the bill. So, how come Sizewell and Hinkley Point were even considered, and what about that subsidy, making electricity more expensive for the consumer?
With so much corruption in the Conservative Party, and yes, a Part Time Parliament, it must be said, though they'd rather you didn't, what difference will one little end of year get-together make? It's not the end of the world. Well it was for those victims of the Whuhan virus - oh yes and thanks for that Xi. Those people who died while we lived it up, would have gone anyway. Now how about that consultancy fee and a cushy little job when I retire from politics, using all my old school chums to pave the way for juicy contracts. So, it's only right that I should get a backhander and hush money. As long as it looks legal. It's like pirating films and music, everybody does it. You should see my collection.
LINKS & REFERENCE
https://www.msn.com/en-gb/news/uknews/new-no10-party-revealed-as-boris-johnson-set-to-blame-aides-to-save-his-job/ar-AASQkiU
https://www.msn.com/en-gb/news/uknews/new-no10-party-revealed-as-boris-johnson-set-to-blame-aides-to-save-his-job/ar-AASQkiU