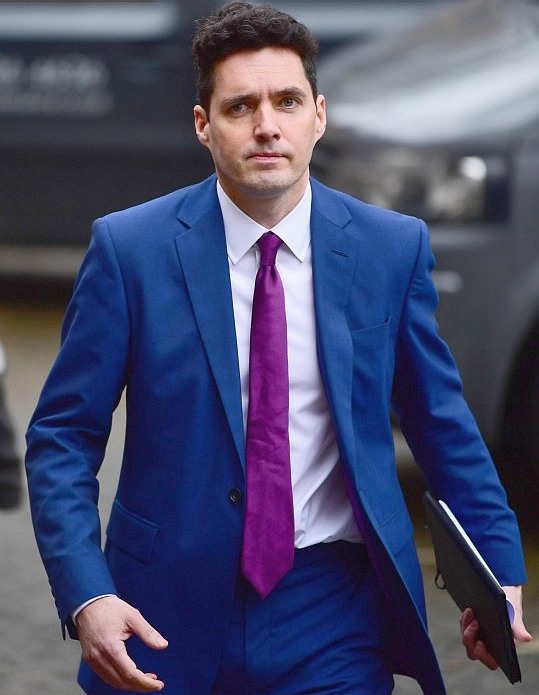 HUW MERRIMAN - The Conservatives appear content to continue using fossil fuels mixed with bio ethanol, in the full knowledge that such policy causes a strain on agriculture and food prices. Where green hydrogen with suitable infrastructure, would solve the energy crisis - using renewable wind power that is often wasted due to the inability of grid distributors to absorb energy during peaks of generation, for later use when winds die down.
BT MONOPOLY - TRANSPORT COMMITTEE - CONSERVATIVE ASSOCIATION - WEALDEN COUNCILLOR
A GOVERNMENT UP SHIT CREEK WITHOUT A PADDLE
Huw Merriman is the local member for Bexhill, Battle and Herstmonceux (known locally as Shit Creek because of the proposed ground and surface water debacle surrounding a proposed 70 house development feeding onto the A271).
Huw is the Chair on the Conservative transport select committee, but has so far failed to respond to email and snail mail correspondence on the subject, from a company based in Herstmonceux. Thank heavens he's not on any electricity or other energy committees.
The state of the roads in and around the village of Herstmonceux is appalling, potholes are everywhere, for sure a transport issue. Unfortunately, with a Clown as a Prime Minister, you cannot expect the Conservative Party to balance the books, when (it is alleged) many of those in positions of trust, may have alternative agendas, working against Climate Change policies, despite COP26.
Boris Johnson may entertain the voters and pander to the media, but in reality he got elected on his comedy act and dubious Brexit figures, without details of any policies that might show he had a chance of governing the country in a sustainable manner, such as to create a circular economy that respects every member of society and is fair.
Talk is cheap. There has been no action, other than penny pinching, robbing the electorate in a massive taxation squeeze - that frankly - is the mark of a dictator who views the people as disposable assets to milk for all they are worth.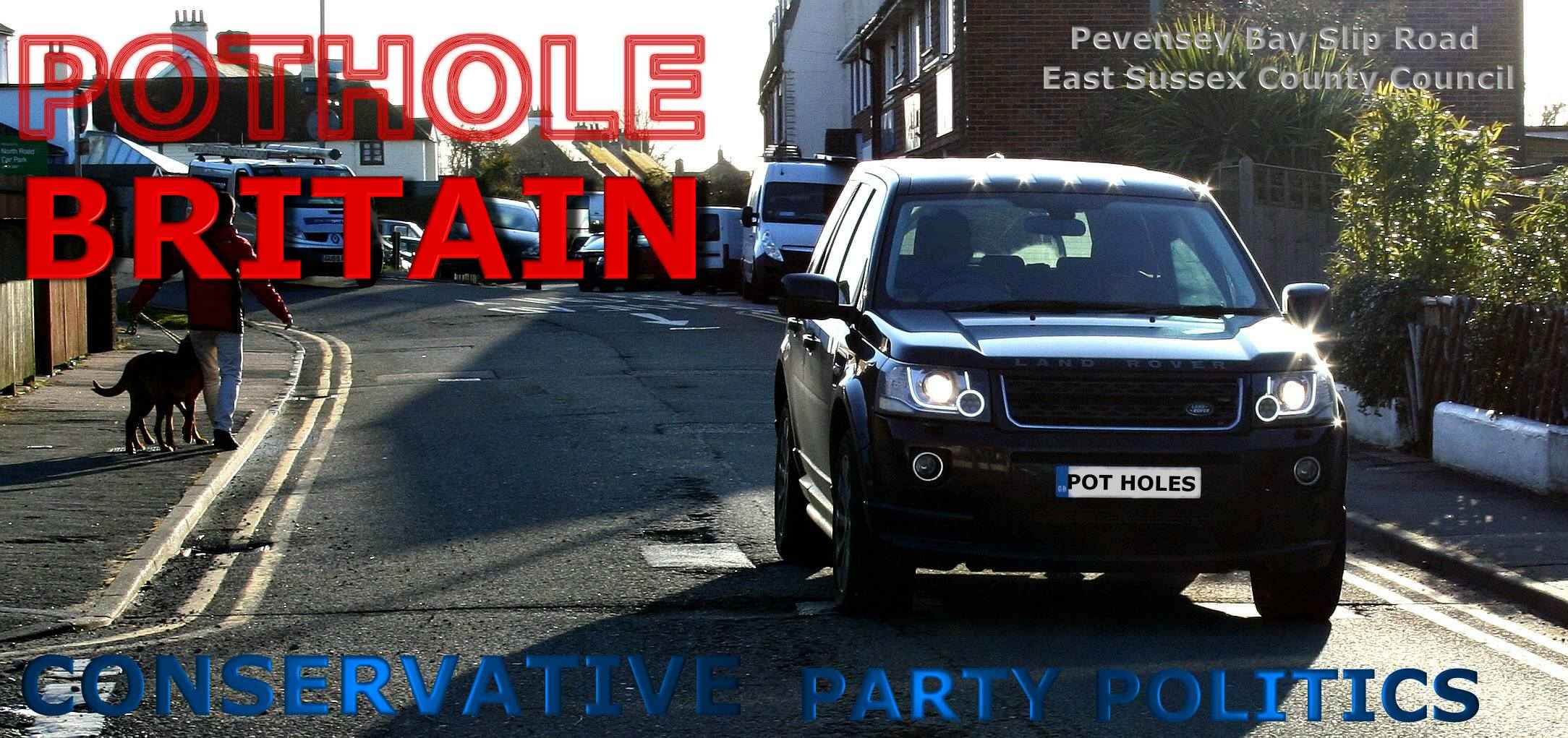 DOWNRIGHT DANGEROUS - We pay our taxes but get no value for all our hard earned pounds. Don't forget that our income is taxed along with just about everything we buy. Even buying a house is subject to stamp duty and dying also costs money with death duties. Shit! How are they getting away with bleeding the electorate dry like this and not even providing roads without potholes. We've got no chance with Covid-19 and the dysfunctional NHS.


CONTACT HUW

29-31 Sea Road
Bexhill on Sea
East Sussex
TN40 1EE

01424 736861
huw.merriman.mp@parliament.uk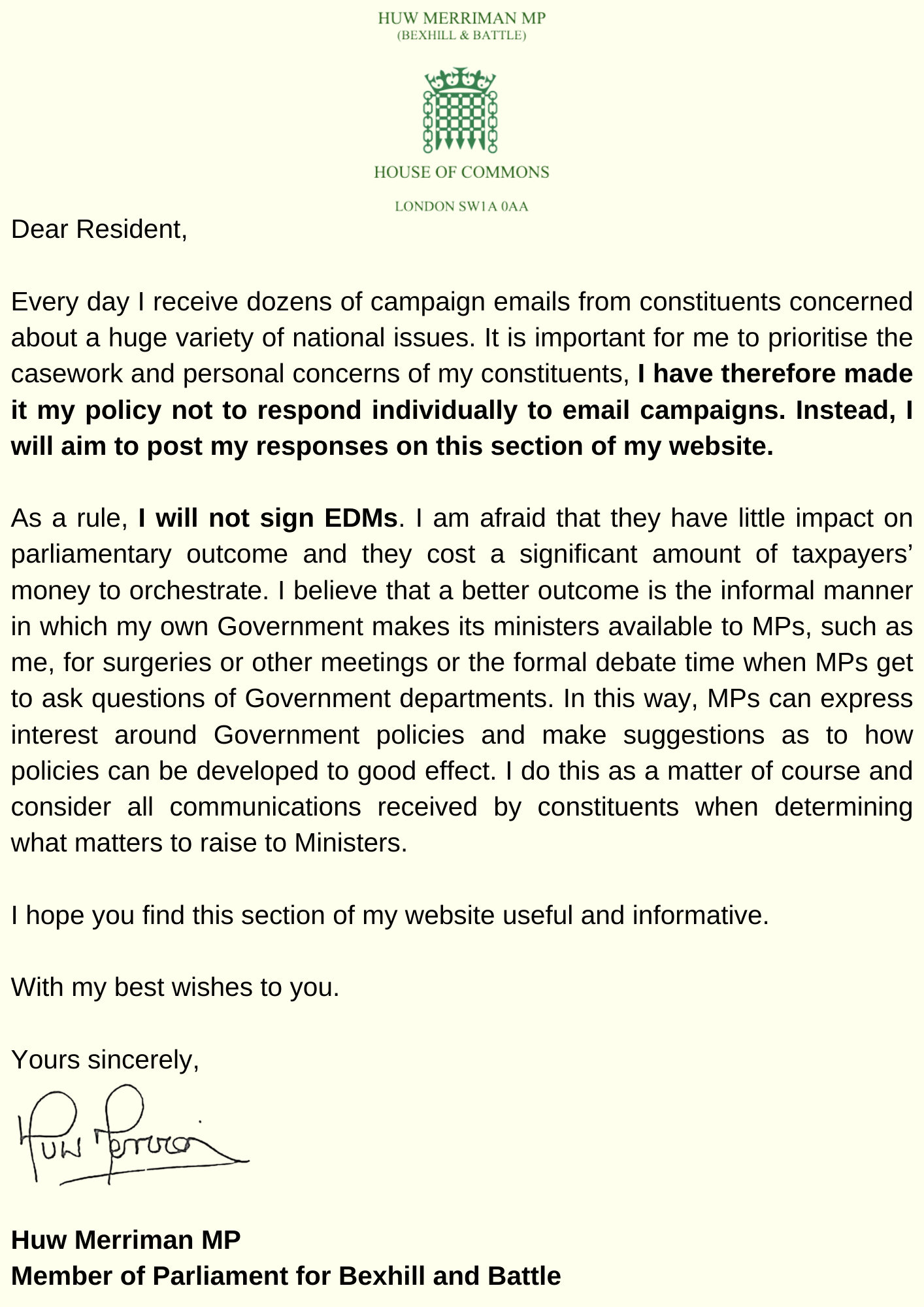 SHORT CUT STONEWALLING - An MP owes a special duty to residents in their geographical region. A failure en-masse, such as this blanket dismissal of complaints, means that this Conservative Member of Parliament is failing to do his job and represent the people, by properly considering matters put to him. There is no transparency or answerability, leaving an MP free to do what he likes. This is hardly conducive to establishing trust with the electorate, in line with the position of power that the MP enjoys - so bringing the Parliamentary system into disrepute.

CABINET MPS -MARCH 2020
Chancellor Exchequer

Priti Patel

Home Secretary

Dominic Raab

Foreign Secretary

Michael Gove

Chancellor D. Lancaster

Ben Wallace

Defence Secretary

Matt Hancock

Health & Social Care

Liz Truss

International Trade

Gavin Williamson

Education

Oliver Dowden

Culture

Alok Sharma

MP Reading West

Robert Jenrick

Housing, Local Gov.

Therese Coffey

Work & Pensions

Robert Buckland

Justice

Anne-Marie Trevelyan

International Dev.

Transport

George Eustice

Environment

Brandon Lewis

Northern Ireland

Alister Jack

Scottish Sec. State

Simon Hart

Welsh Sec. State

Baroness Evans

Leader Lords

Amanda Milling

Party Chairman

Jacob Rees-Mogg

Leader Commons

Mark Spencer

Chief Whip

Suella Braverman

Attorney General

Stephen Barclay

Treasury Sec.
CONSERVATIVE MPS 2017-2020
Boris Johnson - Prime Minister

MP Uxbridge & South Ruislip

MP for Richmond, Yorkshire

MP Welwyn Hatfield

Philip Hammond

MP Runnymede & Weybridge

Alok Sharma

MP Reading West

Damian Green

MP for Ashford

Gavin Williamson

MP South Staffordshire

Liam Fox

MP North Somerset

David Lidlington

MP for Aylesbury

Baroness Evans

MP Bowes Park Haringey

Jeremy Hunt

MP South West Surrey

Justine Greening

MP for Putney

Chris Grayling

MP Epsom & Ewell

Karen Bradley

MP Staffordshire Moorlands

Michael Gove

MP Surrey Heath

David Gauke

MP South West Hertfordshire

Sajid Javid

MP for Bromsgrove

James Brokenshire

MP Old Bexley & Sidcup

Alun Cairns

MP Vale of Glamorgan

David Mundell MP

Dumfriesshire Clydes & Tweeddale

Patrick McLoughlin

MP Derbyshire Dales

Greg Clark

MP Tunbridge Wells

Penny Mordaunt

MP Portsmouth North

Andrea Leadsom

MP South Northamptonshire

Jeremy Wright

MP Kenilworth & Southam

Liz Truss

MP South West Norfolk

Brandon Lewis

MP Great Yarmouth

MP

Nus Ghani

MP Wealden

Huw Merriman

MP Battle

Steve Double

MP St Austell & Newquay

Sarah Newton

MP Truro & Falmouth

Rebecca Pow

MP Taunton Deane

Jacob Rees-Mogg

MP Somerset

Gavin Williamson

MP Staffordshire

Thérèse Coffey

MP Suffolk Coastal

Caroline Ansell

MP Eastbourne

.

David Davis

MP Haltemprice & Howden

Claire Perry

MP for Devizes

Amber Rudd

MP Hastings & Rye

.

Theresa May - former PM

MP for Maindenhead

David Cameron

Former Prime Minister

John Major

Former Prime Minister

Margaret Thatcher

Former Prime Minister
LINKS & REFERENCE
https://www.huwmerriman.org.uk